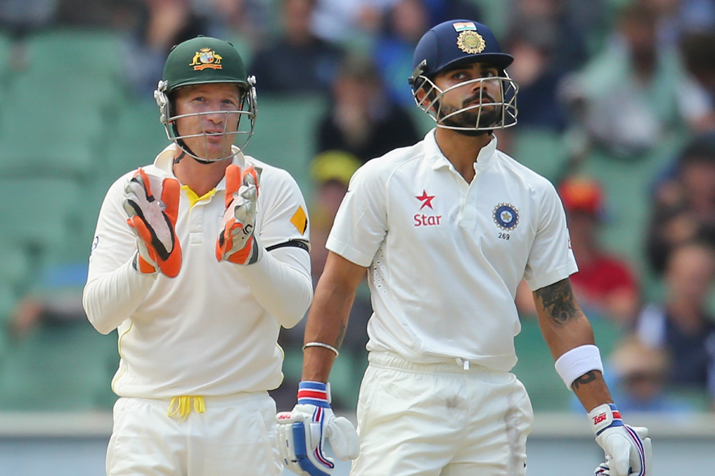 Australia pacer Pat Cummins promised that there will be no separate treatment for Team India captain when the Test series goes underway in Adelaide from December 6.
Leading up to the mega-showdown, people have been speaking about it and South Africa captain Faf Du Plessis was the latest to weigh in on that and suggested the Aussies to let Kohli be. But, the fiery pacer said that Kohli will not be provided with any different treatment from others.
"We'll hold our ground, we're going to be competitive and all those things. We wouldn't treat him differently to any others. I think you'll see a lot of passion from both sides but nothing super fiery like we saw against India a couple of years ago," Cummins told Fairfax Media.
The 25-year-old also said that he would be surprised if Kohli doesn't involve himself in mind games or sledging during the four-match Test series.
"I think I heard him say in the media the other day he won't, but I'll be surprised if he doesn't. He's so competitive, he really thrives on that," said the New South Wales pacer, who has been rested from the three-match T20I series. 
Cummins's comments come in respect to Kohli's words in the pre-departure press conference, where he said that he doesn't want to get into arguments.
"When it comes to getting engaged in an argument, or a fight, as people like to call it excitedly, I have been completely okay with playing without an altercation. At a personal level, I don't need to find these things anymore. I have enough belief in my abilities that I can play without a reason to pump myself up," Kohli said at the press conference.
However, he added that the team will give it back if need be.
"We were always the ones giving it back. We were never the ones starting anything. So as long as it doesn't start, we don't have a problem in focussing on our game and just doing what we need to do," he added.
Kohli has been in sensational form and scored for fun in South Africa and England. Kohli was very successful in the last tour of Australia and keeping him quiet will be a task for the Aussies.
But, Cummins said that plans are yet to be made about how to deal with him and they will be done when the Test squad gets together after the T20 series, that starts on November 21 at the Gabba.
"It might be something to talk about once we get the Test squad together, and talk about how we want to play and our plans for individual batsmen," Cummins said.
"To be honest, I do what works best for me. It's getting myself fired up or getting myself focused, it's more getting the best out of myself than trying to put a batsman off or anything," he added.