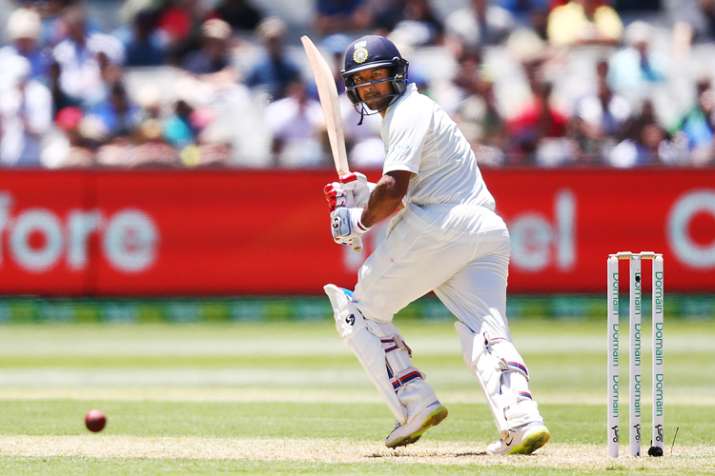 Opener Mayank Agarwal scored a patient 76, the highest innings by an Indian Test debutant in Australia. Agarwal added 83 with Pujara, after the loss of Hanuma Vihari for eight at 40-1. After the loss of Vihari, Mayank continued to play well within himself but did not hold back from his natural strokeplay when the opportunity presented itself.
With Pujara giving him company, the rookie couldn't have found a better partner at the non-striker's end, but inexperience finally led to his undoing him when he failed to fend another short-pitched ball from Cummins to be caught behind just at the stroke of tea.
While fans loved to see Mayank bat, Australian commentators and ex-cricketers Kerry O' Keefe and Mark Waugh came under fire for their alleged racist remarks on the young batsman and Indian domestic first-class cricket standards.
During his commentary stint, O'Keefe remarked that the triple century that Agarwal had scored earlier in the Ranji Trophy, came against "some team like Canteen XI", where the bowlers were "chefs and waiters". His co-commentator Mark Waugh also said, "his (Mayank's) average in India is 50 which is like 40 in Australia".
Kerry O'Keefe said the Indian domestic system has teams like "Canteen XI" where the bowlers are Chefs and Waiters.

Was trying to undermine Mayank's domestic record.

Mark Waugh also said "his average in India is 50 which is like 40 in Australia"

— Edges & Sledges Cricket Podcast (@1tip1hand) December 26, 2018
The unsavoury comments seem to have triggered anger amongst cricket lovers around the world leading to a barrage of attacks on the duo on social media. While some expressed shock and disappointment at the incident, others cited O'Keefe's own career stats to put him into place. 
Kerry o'keefe, Lord snooty!! Sounds like still living in colonial era #BoxingDayTest #INDvsAUS

— Dilipsinh Abda (@dilipsinhabda) December 26, 2018
It might just be me, but it's pretty uncool to ridicule the FC comp of another country while using dubious stereotypes for a cheap laugh...

— Melinda Farrell (@melindafarrell) December 26, 2018
O'Keefe is a buffoon. That diatribe on the #RanjiTrophy competition was a. Classic casual racism, b. Disgracefully inaccurate. Strong competition providing an excellent breeding ground for test cricket. I thought we'd got rid of this rubbish with 9 losing the gig.

— Adelaide Barmies (@AdelaideBarmies) December 26, 2018
@FOXSportsAUS what's with racist colonial comment by Kerry O'Keefe ??? pic.twitter.com/KPinStJRNy

— Arjun Venkatesh (@varjunind) December 26, 2018
A few others hoped that he will be taken off from the commentary panel.
Pretty sure this will be the last commentary stint for O'Keefe. Racism will not go unnoticed by officials. #AUSvIND

— Manya (@CSKian716) December 26, 2018
(With AP inputs)