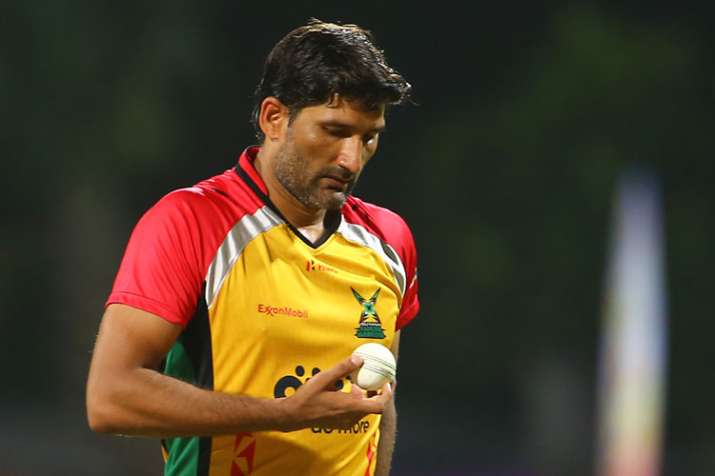 Pakistan cricketers and controversies are like long-lost brothers, they both go hand-in-hand in real life. In a recent Caribbean Premier League match Sohail Tanvir of Pakistan got into the limelight for not a very good reason. In the second match of CPL 2018 between Guyana Amazon Warriors and St Kitts & Nevis Patriots Tanvir bowled Australian allrounder Ben Cutting and showed him two middle-fingers. Tanvir's reaction was totally outrageous and was slammed by the cricket fans on the social media.
#CPL2018 Sohail Tanvir bowls Ben Cutting after being hit for a six the previous delivery, then gives him the double finger!! Shocker! Has to be some sanction from that..kids watching. That said appears anything goes these days pic.twitter.com/vMLpUEdVdb

— Lukesters (@Lukesters) August 9, 2018
@CPL @amznwarriors Sohail Tanvir is to be fined for that obscene gesture made to Ben Cutting on his dismissal during Twenty20 between Patriots vs Amazon Warriors. We all need to remember kids are watching worldwide & that form of behaviour is totally unacceptable in the game!!

— 🇯🇲Brenda🇯🇲 (@poohbeargranny) August 9, 2018
This is not good from Sohail Tanvir. Could have come up with a better reaction. Stars are role models for kids. https://t.co/d1sKJvs7iS

— Nabeel Hashmi (@iNabeelHashmi) August 10, 2018
Extremely disappointing to see this in sports. But then, what else do you expect from Pakistanis? @Nair10Vineet @pb2410 watch this

— Mukund Iyer (@IyerM04) August 10, 2018
Sohail Tanvir gives Ben Cutting a double middle-finger salute after bowling him with a yorker for 15. He'll probably be getting to meet match referee Denavon Hayles after the match. Patriots 119/3 in the 17th. pic.twitter.com/2tnzak0wmJ

— Peter Della Penna (@PeterDellaPenna) August 9, 2018
It was the 16th over of the match when GAW's left arm pacer bowl a beautiful yorker that dismantled Cutting stumps. Before that ball Cutting smashed Tanvir for a six on the very previous delivery.
GAW won the match by 6 wickets with 21 balls remaining. After openers' flop show Shimron Heytmer scored 79 runs from 45 deliveries. On the other hand, in the first innings, Chris Gayle carried SNP on his back. He scored 86 runs from 65 deliveries but got no support from the other end.
ICC is continuously introducing rules to protect the rich legacy of the game. They have introduced many strict laws against cheating and misconduct on the field and Tanvir might be getting the punishment for his gesture.
Players usually show some extra aggression on the field and in that they do some outrageous things like Tanvir had done but they need to understand the integrity of the game.