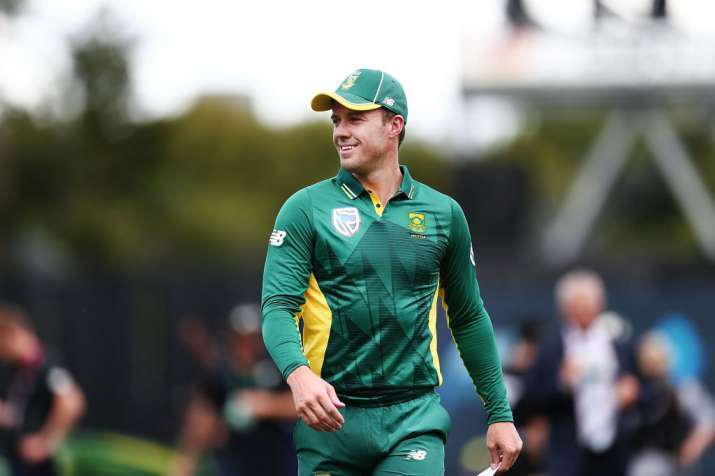 Mr 360', AB de Villiers astonished the whole world by announcing his retirement from international cricket. From his wide range shots, to his daredevil fielding, De Villiers has left everyone awestruck with his performances in all formats of the sport.  He undoubedtly has a massive fan following in India, all thanks to his magnificent Indian Premier League career and his performances against the Indian cricket team as well.
Many talk about it, yet few do it. The 34-year old who can still be considered to be at his prime best; dropped an announcement which was a hard pill for any fan to swallow. There can be no question as to how good Abraham Benjamin de Villiers is.
He has been regarded as one of the best batsman in modern day cricket, giving cut throat competition as an individual. 
He just changed the mindset of spectators in ODI cricket, his stats are a proof why he is treated as the best in the business. De Villiers played 114 Tests and 228 ODIs, and averaged over 50 in both. He is fourth on the list of South Africa's all-time top run-scorers in test cricket with 8,765 runs. He made 22 centuries and 46 half-centuries. In ODIs, he finished with 9,427 runs, the second-most by a South African, and 25 centuries and 52 half-centuries.
De Villiers was equally comfortable hitting cover drives or going down on one knee and scooping the ball over his head for six. He could thrill fans - and even the great India batsman Sachin Tendulkar - with his invention. The ability to improvise and play outrageous shots gave him world records for the fastest ODI 50 (off 16 balls), 100 (31 balls) and 150 (64 balls).
Here are some interesting facts that you should know about AB de Villiers.
1. South Africa skipper Faf du Plessis and AB de Villiers were best friends from childhood as they were in the same school. They played for the school's first cricket team when they were only 15.
2. AB de Villiers is also a professional singer. He has his own band in his country.
3. The reason why De Villiers dones the jersey number 17 because he was born on February 17, 1984. He considers it to be his lucky number.
4. In his long illustrious batting career, he has also picked seven wickets in ODI cricket and two in Test cricket.
5. He is an excellent tennis player as he has mentioned himself during a YouTube talk show in India.
6. De Villiers proposed his wife Danielle in front of one of the 'Seven Wonders Of The World' Taj Mahal during a season of Indian Premier League.
7. He has played most number of Test innings (78) and has never been dismissed for a duck, that shows his temperament in the toughest format of the game.
8. In his Autobiography 'AB: The Autobiography', he has mentioned that his favourite book is the Holy Bible.
9. He holds the record of scoring fastest 50, 100 and 150 runs in One-day Internationals. All the records have come against West Indies.
10. De Villiers is the only wicketkeeper-batsman to have completed the double of effecting 10-plus dismissals and scoring a hundred in a Test match. He did it against Pakistan in 2013.