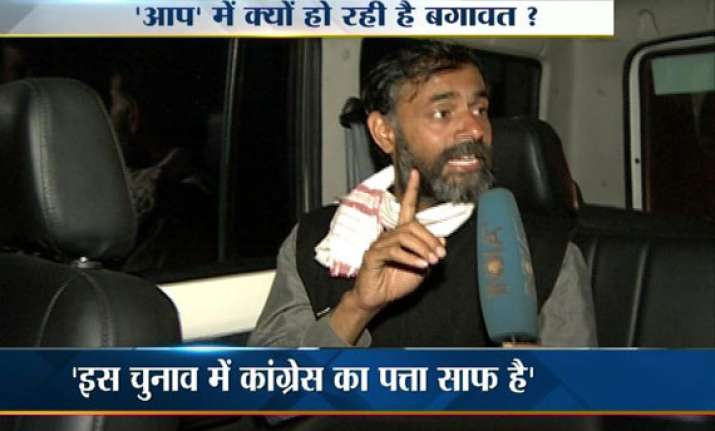 New Delhi: Aam Aadmi Party ideologue Yogendra Yadav today clearly said his party would prefer to stay alone ("ekla chalo") after the Lok Sabha elections. It will neither extend support, nor seek support, he added.
In an interview to India TV, Yadav, considered as master strategist for AAP, said, our "ekla chalo" policy was there during the Delhi assembly polls also and it will continue this time.
In Delhi, we never sought support from any party to form our government, it was the Congress which unilaterally extended support to us, he added.
Asked about reports of rifts within the party over allotting tickets to candidates, Yadav said, there is no political party in the world, where there are no controversies over tickets.
"Our party is becoming popular day by day, that's why there is a surge for tickets. You have people who are on sarpanch level seekings tickets to become MP, there are new MLAs who want to become MP. I don't see anything wrong in it. Some people are inexperienced", he added.
When it was pointed out that the AAP claimed to be a party with a difference, Yadav said, our process is of course different from other parties.
Asked why ink was being thrown at him and other leaders, and not at leaders like Narendra Modi, Yadav quipped: "Ink can be thrown at Modi, only when somebody comes within 25 metres of him".
Yadav said, there are more than a crore members in AAP, and you can't enforce discipline among them like Hitler.