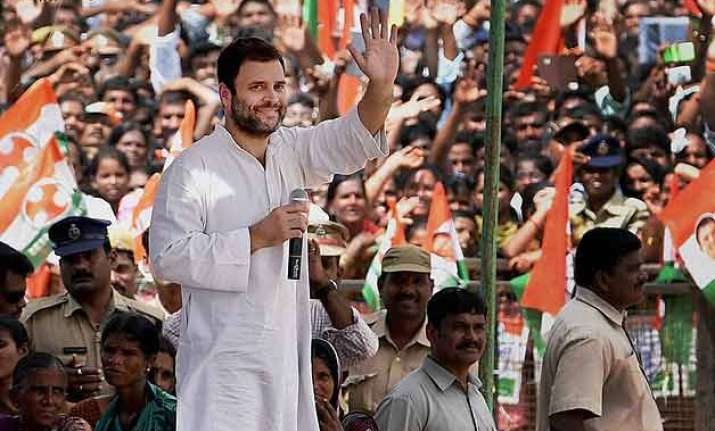 Anantapur (Andhra Pradesh): Targeting the NDA government over the land bill, Congress vice president Rahul Gandhi on Friday said he would not allow Prime Minister Narendra Modi to take farmers' land easily.
Addressing a public meeting in Obuladevara Cheruvu village as part of his 'padyatra' to highlight the problems faced by farmers, he assured the farming community that Congress will stand by them.
"The PM of India is under the impression that he can take away the lands of the farmers but we will not let him take farmers' land easily," said Gandhi.
"We have not even shown 10 percent of the strength of farmers of India. And the PM suddenly understood that he cannot push the farmers of this country," he said in an obvious reference to the government's proposal to amend the land bill to break the impasse in parliament.
He said the Congress took a stand in parliament that it will not let the government take away the land of farmers that easily. "The Congress and the farmers of this country decided to show a little bit of their power to the prime minister. He changed his mind after the fight of farmers, which was fought by the Congress," he added.
On his first visit to Andhra Pradesh after the bifurcation of the state, Gandhi also hit out at Modi over special status to the state.
"The PM wanted to take away land of farmers and also the special status and Polavaram away from people of this state," he said while alleging that the NDA government is going back on the commitment to accord special status to the state.
Gandhi, whose visit is seen as an effort to strengthen the party's base in the state after it drew a blank in last year's assembly and Lok Sabha elections, told the rally that the Congress is fully committed to special status and Polavaram project.
He also targeted Chief Minister N. Chandrababu Naidu and main opposition YSR Congress Party for not fighting for special status for the state.
"I can fully understand the intention of the prime minister. But, what I do not understand is the intention of the chief minister of this state and other party. I do not understand why these parties do not fight for special status and for Polavaram," he said.
Accompanied by Congress state unit president Raghuveera Reddy, other leaders and a large number of party workers and supporters, Gandhi undertook a 10-km padyatra in the drought-prone district.
He kicked off his padyatra from Obuladevara Cheruvu village, where his grandmother and former prime minister Indira Gandhi had addressed a meeting in 1979.
He interacted with farmers, agricultural labourers, artisans and women's self-help groups and enquired about their problems.