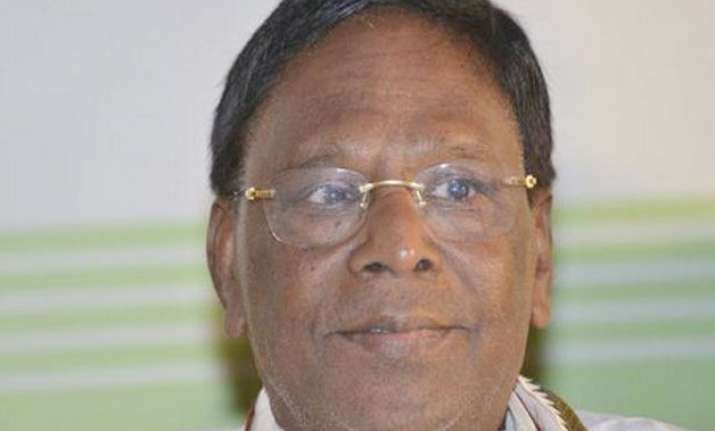 Puducherry: Senior Congress leader and former Union Minister V Narayanasamy today demanded that Union Minister VK Singh step down for his dog remark on the Dalit killings in Faridabad and said it only showed that the BJP as a whole was 'anti-Dalit.'
"The comment made by Singh showed that the BJP as a whole was anti Dalit. His dog analogy demonstrates the height of the former Army chief's vanity", Narayanasamy, who is also AICC General Secretary, said.
He demanded that Singh quit his post or Prime Minister Narendra Modi intervene and sack him from the cabinet as his comments were highly objectionable and unbearable.  He charged both the Centre and the Rangasamy led AINRC government here with being responsible for what he termed was the current fiscal crisis the Union Territory was facing.
While on the one hand the NDA government had reduced allocations for the UT for developement projects, the CM N Rangasamy had failed to submit utilisation certificates for earlier allocations to the Centre, depriving Puducherry of higher allocations.
Narayanasamy alleged that funds for Centrally sponsored schemes had been brought down from 90 percent of the total requirements to 55 per cent. The CM had also 'failed' to strengthen revenue collection and the UT was quite often resorting to open market borrowing, he said.
Industrial development and promotion of tourism related activities had also come to a standstill in Puducherry for want of effective action plan, Narayanasamy said.  He sought a CBI probe to ascertain the modalities adopted by the government in implementing 'operation garbage' scheme and also in purchase of mixies and grinders. 
The former union minister demanded that centre take steps to ensure expeditious release of more than 50 fishermen from Tamil Nadu and Puducherry, who were arrested allegedly by Sri Lankan naval forces. Their boats impounded by that government should also be released, he said.