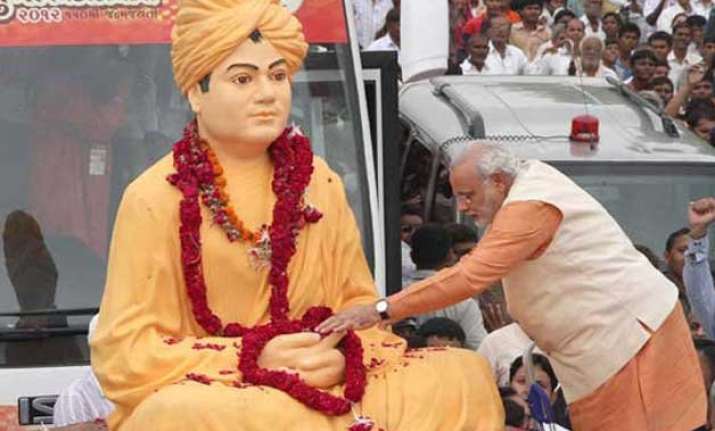 It's no secret that Swami Vivekananda is perhaps the biggest source of inspiration for Prime Minister Narendra Modi. In most of his interviews, you can see the statue of Swami Vivekananda placed somewhere in the background.
As the Chief Minister of Gujarat, Narendra Modi had even launched Vivekananda Yuva Vikas Yatra to mark the 150th anniversary of the historic speech that Vivekananda had made in Chicago at the World Parliament of Religions in 1893. It's not that there was no political angle to this Vivekananda Yuva Vikas Yatra that passed through all 182 assembly seats.
Narendra Modi had very deftly used this yatra to make inroads into the first-time voters  of Gujarat and encourage them to join BJP in large numbers on the eve of 2012 assembly elections and he succeeded in his endeavor to a great extent as the assembly results showed.
However, it's a common knowledge that Narendra Modi is inspired by Swami Vivekananda since his childhood days. Narendra Modi is known to be a deeply spiritual person and being a former RSS pracharak, his admiration for Swami Vivekananda is quite understandable.
RSS is committed to cultural nationalism and Swami Vivekananda spent his entire life propagating the tenets of Hinduism what he called "Sanatan dharma". Since RSS does not differentiate between "Hinduism" and "nationalism", Swami Vivekananda obviously ranks very high in RSS list of icons.