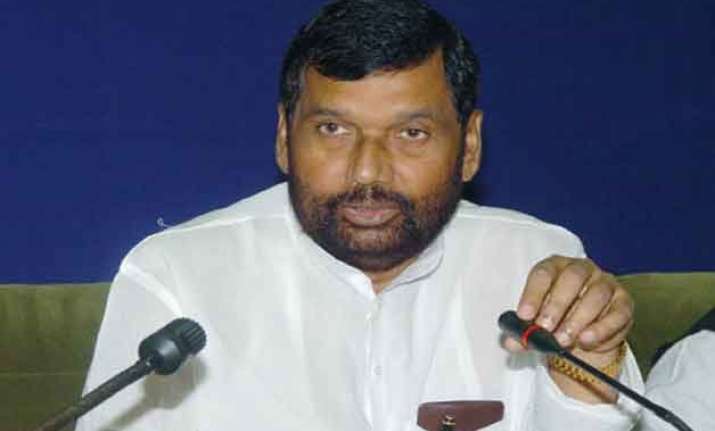 New Delhi: Union Food and Consumer Affairs Minister Ram Vilas Paswan has described the coming together of RJD chief Lalu Prasad, JD(U) chief Nitish Kumar and SP chief Mulayam Singh Yadav as "snakes and scorpions joining hands during flood situations."
Speaking to reporters, Paswan, who was part of the Janata Dal government led by former PM V P Singh, and is currently part of Narendra Modi-led NDA government, said the coming together of these leaders will not make much of a difference to the political situation in Bihar.
On the proposal of bringing a new anti-conversion law, Paswan said:  "Existing laws regarding conversion are sufficient."
Paswan, who is president of Lok Jan Shakti Party, at the same time made a strong defence of the government over the conversion row, asserting that neither Prime Minister Narendra Modi nor his government ever engaged in such issues after coming to power last May.
He said according to Article 25 of the Constitution, everybody has a right to freely profess, practise and propagate religion of his or her own choice and there are also provisions to check conversion by coercion and allurement if any.
"LJP's stand is that the existing laws in this matter are sufficient... Government also says the same thing. As long as there is no consensus, it will not bring it (anti-conversion law). Our party's view is that the existing law and sections in law are very clear about it," Paswan told reporters.
Responding to questions about controversial statements on conversion and others being made by some people in BJP and its sister organisations, he said, "Those, who are talking about it are not government. Neither the government is saying any such thing nor did Prime Minister Modi talk about issues like Ram Temple, Article 370, Ghar wapasi or conversion."