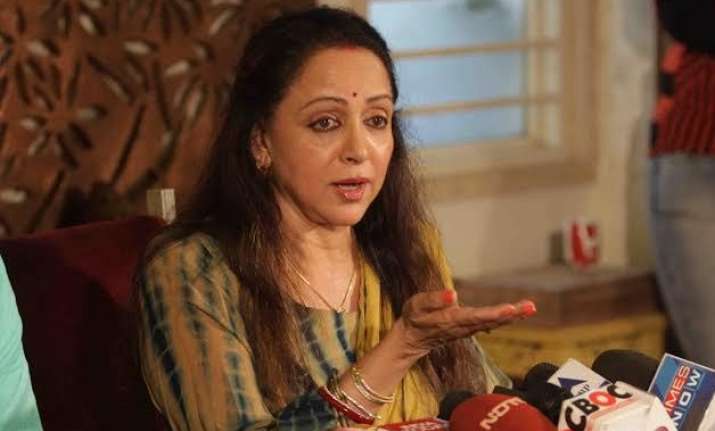 New Delhi: Allegations that she illegally grabbed land for a dance academy at a nominal price notwithstanding, veteran actress-MP Hema Malini asserts no can stop her from from establishing her institute.

A Public Interest Litigation (PIL) in the Bombay High Court last month sought a direction to the city police commissioner to file a case of cheating and forgery against the yesteryear actress and Maharashtra Revenue Minister Eknath Khadse on charges of illegally allotting land.

Malini said she has waited for 20 years to have her own dance academy, where classical dance forms would be taught, and she won't let "politics" ruin her plan.

"I have been waiting for this for 20 years and when I was about to get it so much hullabaloo was created that I got scared. People said, 'You leave it, why are you after this land? I said why should I leave something I have been wanting for so many years," Hema told PTI in an interview.

"I want to impart my dance my music, I want to make an institute and teach children. How can they stop it? Why are they talking about some bloody politics and spoiling my thought and creation," she asked.

A trained Bharatnatyam dancer herself, Malini said traditional Indian art forms are being distanced by people today and she wants to retain them by imparting co-curricular education to youth.

"Classical dance forms and music are slowly going away. It is very important to impart these to children..." 

The 67-year-old actress also feels youngsters should be trained in the art forms of legendary artistes in the country to keep traditions alive.

Referring to the Padma Shri row involving veteran actress Asha Parekh in which Union Home Minister Nitin Gadkari claimed she lobbied for the award, Malini said artists should be given their due respect, which is beyond these honours.

"There are so many legends in our country, what has government done for them till today? They should be recognised, artistes should be given respect, giving a Padma Shri or a Padma Vibhushan (is not enough) and that too when they run after and ask for it. Artistes want some recognition.

"Institutes should be named after these legendary artistes. Some institute should be named after Lata Mangeshkar. We should train kids in the music and dance of our legends, that's how we can keep the traditions alive.