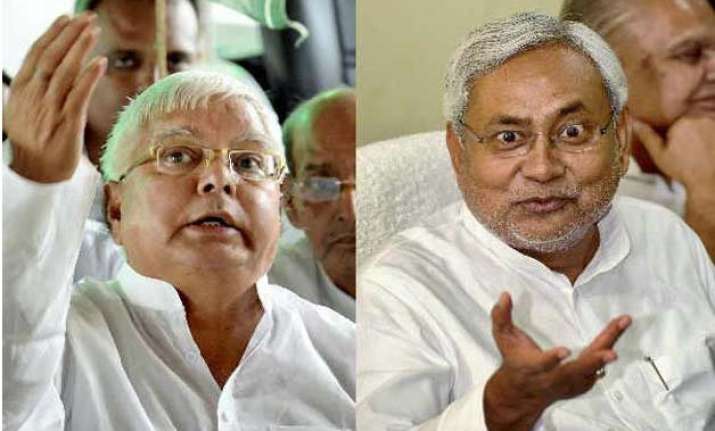 New Delhi:  Bihar Chief Minister Nitish Kumar and RJD supremo Lalu Prasad had a one-on-one meeting today to sort out their differences over seat-sharing and projection of the chief ministerial candidate ahead of the crucial Assembly elections later this year.
The two leaders had such a meeting for the first time since the talks of merger of Janata Parivar parties started following their rout in last year's Lok Sabha elections.  
"It was a very cordial meeting. Both leaders had a one-on-one meeting after a long time and it was very productive," JD(U) spokesperson K C Tyagi said, declining to elaborate on the agenda of the meeting.
Both the leaders are likely to meet Samajwadi Party supremo Mulayam Singh Yadav tomorrow. The name of the new party, its flag and symbols are yet to announced.  
Both Kumar and Prasad had arrived in the national capital yesterday to give final touches to tie up their lose ends after six Janata Parivar parties including the two Bihar regional outfits announced a merger last month.  
JD(U) sources said their party is keen that Prasad publicly endorse Kumar's name as the Chief Ministerial candidate as it would send out strong signal to people and put an end to any post election differences over the leadership.  
"There is no question about any alternative to Kumar as the CM candidate of the new party in Bihar but it would help the party if this is declared publicly by Laluji," a JD(U) sources said.
Prasad has so far maintained a silence over the chief ministerial candidate in Bihar even though he had supported Kumar's return to the chair and removal of Jitan Ram Manjhi.  
Prasad himself cannot contest an election as he was convicted in a corruption case involving fodder scam.  
Six offshoots of 'Janata Parivar' had merged on April 15 to form a new party to take on a resurgent BJP, especially in the context of the upcoming Assembly elections in Bihar.  
The ruling parties in UP and Bihar, Samajwadi Party and JD(U), RJD, INLD, JD(S) and Samajwadi Janata Party had formally decided to merge at a meeting at the residence of the SP President. The merger came almost two decades after the then Janata Dal disintegrated in the 90s.