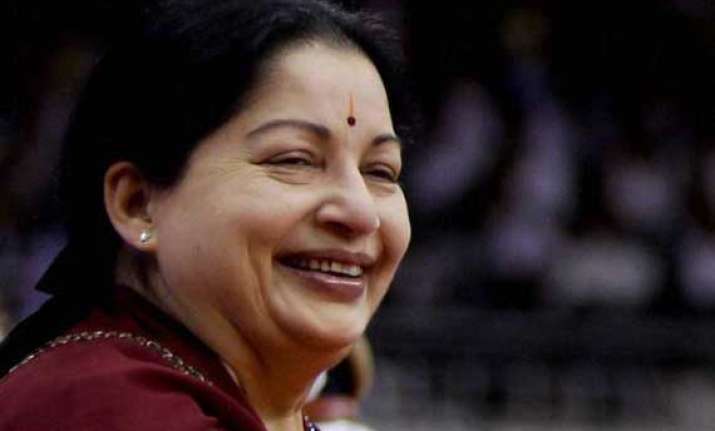 Chennai: A day after all shutters were lowered in Mullaperiyar Dam to increase its storage level from 136 feet to 142 feet in compliance with the Supreme Court order, Tamil Nadu Chief Minister J Jayalalithaa today said justice has been delivered to the people.
Making a suo motu statement in the Assembly, she said, "The act of downing the shutters in Mullaiperiyar in order to raise its storage level to 142 ft is a victory for the people of Tamil Nadu. More than a victory, it is justice delivered."
A high-powered committee comprising officials from Dam Safety Organisation, Central Water Commission and bureaucrats from Kerala and Tamil Nadu had inspected the dam. Later, all the 13 shutters were downed in the dam for raising the water level.
"This is a victory for Tamil Nadu. This is a victory for the people of the state, particularly the farmers. I'm extremely happy over this victory which has rightfully come to us after 37 years. With this, Tamils' rights has been reinstated in the Mullaperiyar issue," Jayalalithaa said, amidst thumping of desks in the House.
The Supreme Court had on May 7 held that the 120-year-old dam is safe and allowed Tamil Nadu government to raise the water level to 142 feet and ultimately to 152 feet after completion of strengthening measures on the dam.
The five-judge Constitution Bench headed by Chief Justice R M Lodha had passed the judgement striking down a law promulgated by Kerala government declaring Mullaperiyar Dam as endangered and fixing the water level at 136 feet.
The Kerala government had on July 1 filed a plea in the Supreme Court seeking review of its May 7 verdict.  
Mullaperiyar Dam is a masonry dam and was constructed pursuant to the Periyar Lake Lease Agreement of October 29, 1886 across Periyar river.
The dam is situated in Idukki district of Kerala and is owned and operated by the Tamil Nadu government.