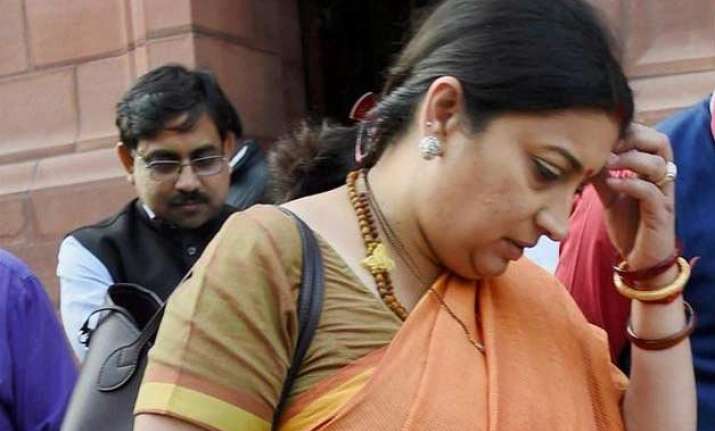 New Delhi: HRD Minister Smriti Irani was today in a spot when the children of a doctor killed in an accident on the Yamuna Expressway on Saturday night contradicted her claim that she had tried to help the injured and ensure they reached hospital.
On Saturday night, Irani escaped with minor injuries after her vehicle and her escort vehicle had rammed into a vehicle that had allegedly hit a motor cycle killing one Dr Ramesh Nagar and injuring his daughter Sandali and nephew Pankaj.
However, the minister's office said in a statement today that the vehicle mentioned in the media reports of having hit the motorcycle had nothing to do with Irani's cavalcade and that she had directed SSP, Mathura, to arrange ambulance immediately so that injured could be given medical treatment at the earliest.
Commenting on the accident, SSP Mathura, Rakesh Singh said the minister's car had nothing to do with the accident involving the motorcycle.
"The bike was hit by a Honda City (car). Two other cars also hit it. Then came Smriti Irani's pilot car. The minister reached the spot 7-8 minutes after the accident. She got out and called our control room for help," said Rakesh Singh.
In a series of tweets immediately after the accident, Irani had said, "For all enquiring re my accident-I'm fine.  Thank you for the concern and wishes."
"There was a pile up of vehicles due to an accident on the expressway. Unfortunately the police vehicle before mine & my car also crashed "Tried to help the injured who were lying on the road for quiet sometime and ensured they reach a hospital. Pray for their safety," she said in another tweet.
"Good Samaritan Manoj Chopra and his wife also helped injured citizens. God bless them for their empathy and kindness," she added. However, Sandali today told the media that they were on a motor cycle which was hit by a vehicle from behind and that belonged to Irani.
"I did ask her for help but she completely refused to help us and said she could help us afterward also.  Smriti Irani could have helped us.  Had she helped (us), probably our father would not have died," she said.
Manoj Chopra, an eyewitness referred to as the Good Samaritan by Irani in her tweets, said the Honda City vehicle the minister was travelling in had rammed into other cars.
"Then she had come and was in action.  She called top officials.  Within 10 minutes, the ambulance arrived at that spot," he added.
Sandali's brother Abhishek also made similar remarks saying his father was lying dead and the injured children were pleading for help.  He said the convoy of Smriti irani was on its way from Vrindavan to Delhi.
"My sister, who was present on the spot, told me that they (minister and her entourage) did come out and see but instead of helping, they got back in the car and left.  On humanitarian grounds she could have helped us and saved our father," he said.
Reports from Agra said that Abhishek had filed an FIR with the police alleging that Irani ignored the victims and moved away.  It was later that police took the children to hospital.
"A speeding car with registration (DL3C BA 5315), which was part of the cavalcade of HRD Minister Smriti Irani, hit a motrobike from behind on which Dr Ramesh Nagar and two children were going for a wedding party," the FIR reportedly said.
Irani's office issued a statement today in which it said that in  sections of media a news story was being run regarding an accident that happened on Yamuna Expressway on late night of March 5, in  which it has been mentioned that vehicle with registration number (DL 3C BA 5315 - Honda city) has allegedly hit a biker.
"It is clarified hereunder that this vehicle has nothing to do with HRD Minister's cavalcade, while it is to be noted that Union HRD Minister, Smt. Smriti Zubin Irani, had directed SSP, Mathura, to arrange ambulance immediately so that injured could be given medical treatment at the earliest," it said.