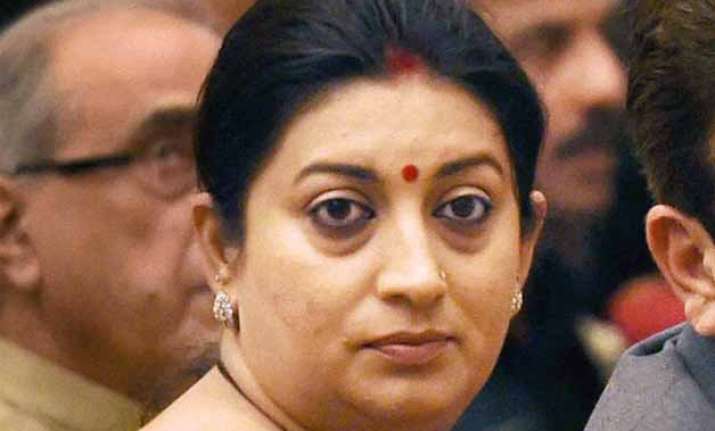 Mathura: Sandili Nagar, the 16 year old daughter of Agra based doctor who died after his vehicle met with an accident with Smriti Irani's convoy on Saturday, has alleged that after the mishap she pleaded HRD minister for help but she ignored her.
"We were going to attend a marriage ceremony and our motor cycle's speed was very slow. Suddenly, Smriti Irani's vehicle hit us and our motorcycle got slipped. She came out of her car to see us. My father was lying injured on road after the mishap. I asked her to help him but she denied," Sandili told a media persons.
According to ANI, the victim's daughter "begged" the minister for help, but she left without doing anything.
Sandili who also got injured in the accident and received head injuries said, "Had she helped us our father could have been saved."
However, the HRD ministry has denied the charge.
Earlier, an FIR was filed on the pile-up at Yamuna expressway late Saturday night. It says that the cavalcade hit the motorcycle, killing a rider who was a doctor and injuring two children.
Sources said the pilot vehicle in Irani's cavalcade rammed into another vehicle, which had met with an accident on the expressway. Her car then rammed into the pilot vehicle after failing to control its speed.
She escaped with minor injuries on her left arm and leg, but was not hospitalised, the sources said.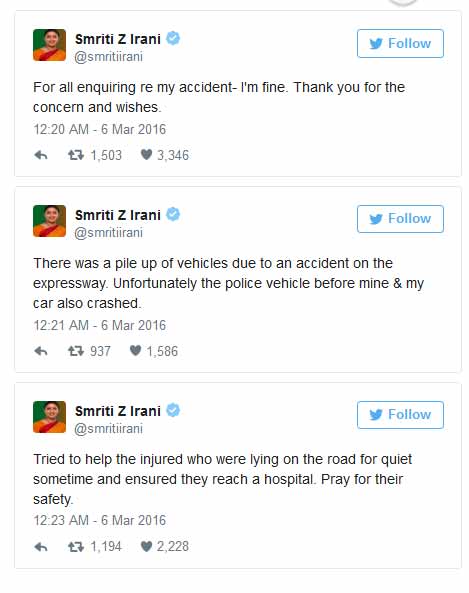 SSP Rakesh Singh said that a motorcycle-borne man was killed during the collision, adding the real cause of death will be known after an inquiry into the chain of events.
The victim has been identified as Ramesh, a doctor from Agra, who died on the spot, while his father and sister who were riding pillion were injured," Singh said.