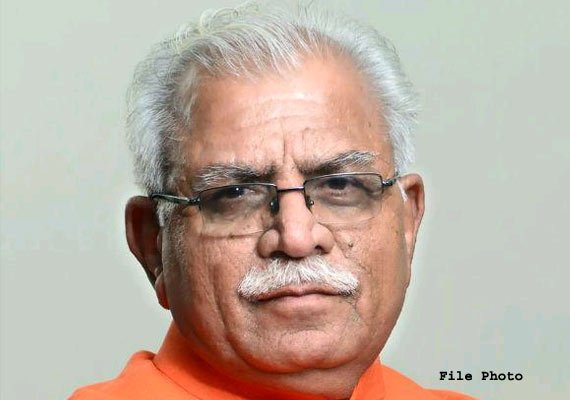 Chandigarh: The political era of Haryana's three famous Lals - Devi Lal, Bansi Lal and Bhajan Lal - may have ended years ago, but the state Sunday got another 'Lal' as chief minister. Manohar Lal Khattar, the state's first BJP chief minister, has a 'Lal' in his name.
Khattar took oath of office and secrecy as 'Manohar Lal'. Even in his election affidavit, he mentioned his name without the Khattar surname. He belongs to the Punjabi community and was born in a village in Rohtak district.
However, in his election campaign and even in the official press releases of the Haryana government, the new chief minister is mentioned with his Khattar surname.
The new chief minister is a first-time legislator from Karnal.
ALSO READ: PM congratulates Khattar on taking oath as Haryana CM
The Lal-era dominated Haryana from its inception in November 1966 till 1999.
Devi Lal and Bansi Lal belonged to the politically dominant Jat community. Bansi Lal was chief minister in 1968-75, 1986-87 and 1996-99.
Devi Lal, who later became deputy prime minister, was chief minister in 1977-79 and 1987-89.
Bhajan Lal, a non-Jat leader, was chief minister in 1979-86 and 1991-96.
The BJP created political history last week by winning 47 seats in the 90-member Haryana assembly. This is the first time the BJP has its own government in the state.