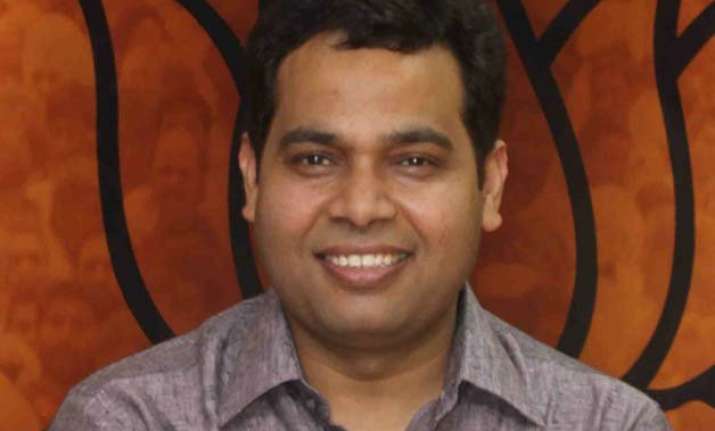 New Delhi: Hitting back at Congress for its attack on Prime Minister Narendra Modi, BJP today said the opposition party was acting as a "road-block" to development and questioned its chief Sonia Gandhi's "silence" on "pro-Pakistan" and "pro-terror" remarks by the leaders of her party.
Brushing aside criticism of the NDA government for taking the ordinance route, BJP sought to turn the tables on Congress as it said that successive regimes led by the opposition party had relied on such actions, starting with Jawaharlal Nehru and including Indira Gandhi and the previous UPA regime.  
BJP also attacked Congress for giving sermons on "democracy" and alleged that there was no place for that idea in the opposition party due to its "dictatorial" policies.  "The government is trying to bring in reforms, but a frustrated Congress is trying to act as a road-block in this path of development. Congress is trying to stall development as they did not do anything during their regime. They are against reforms and development, but reforms can't wait and thus the need for bringing ordinances.  
"While the Prime Minister's mission is of good governance and development, Congress's mission has been of 'corruption and commission'," said BJP national secretary Shrikant Sharma.  Reminding Congress of the numerous ordinances brought by Nehru and the "double century" of ordinances introduced by Indira Gandhi despite her having a majority, he said it has no moral right to talk about ordinances.
The previous UPA regime had come out with over 60 ordinances, he added.  The BJP leader also charged the Congress brass with being "dictatorial" and cited the examples of the Emergency and the tearing away of ordinances by Rahul Gandhi during the previous UPA-II government.
Sharma also said, "It is very unfortunate that Sonia Gandhi is silent over repeated pro-Pakistan and pro-terrorist comments made by Congress leaders." Speaking at the CWC meeting, Sonia launched a scathing attack on Modi and charged that the NDA government has "dictatorial" tendencies even as her party's leaders met here to draw up a strategy for painting the ruling alliance as being "anti farmer".