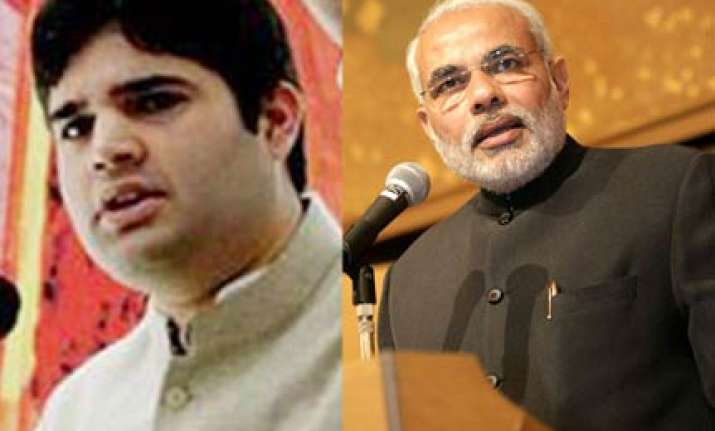 Reports that Bihar Chief Minister Nitish Kumar does not want Narendra Modi and Varun Gandhi to campaign in the state for assembly polls on Tuesday  created fresh strains in the JD(U)-BJP alliance with saffron party leaders asserting that they cannot be dictated to. 
On a day when the leaders of the core group of BJP's Bihar unit were meeting party president Nitin Gadkari, four ministers of the party attended a Cabinet meeting chaired by Kumar in a sign that things have not reached a breaking point. The BJP top brass reviewed its ties with the JD(U) with party leaders from Bihar in the backdrop of senior leader L K Advani being not in favour of the alliance splitting. 
Bihar Deputy Chief Minister and senior BJP leader Sushil Modi, who called off a joint appearance with Kumar for the 'Biswas Yatra' on Sunday, met Advani. He was accompanied by party Chief spokesperson Ravi Shankar Prasad, who also hails from Bihar. 
Party sources said Gadkari's meeting with the Bihar core group would be crucial as he will take a decision on the future of ties with JD(U) after listening to the views and advice of the state leaders. 
Kumar, who triggered a row with BJP by returning to Gujarat government its Rs.five crore relief for the Kosi flood victims, is reported to have told the BJP that the alliance can continue only if BJP agrees not to field Narendra Modi and Varun Gandi in the election campaign for the Bihar polls expected in October this year. 
There was no official word from the JD(U) but leaders speaking on condition of anonymity said there would be no compromise on this issue and that the party had no qualms in going it alone if the BJP remained adamant. BJP spokesman Shahnawaz Hussain said the party had not received any such message and "we haven't asked for anyone's suggestions."
"When the election campaign starts, BJP will make a list (of campaigners). BJP will decided as to which leader will campaign where," he said. BJP state president C P Thakur and senior leader Giriraj Singh went a step further, saying there cannot be such pre-conditions in an alliance.PTI