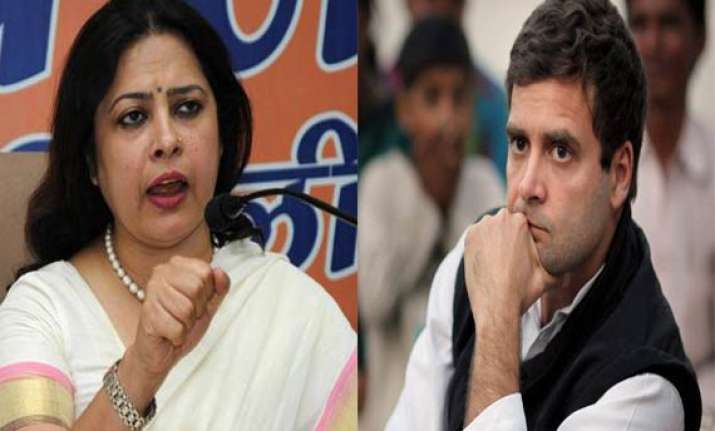 Bangalore:  After Rahul Gandhi's condemnation of Shiv Sena and BJP over force-feeding of a fasting Muslim, BJP MP Meenakshi Lekhi yesterday put the onus on the Congress saying some of the MPs were staying in Maharashtra Sadan because Congress legislators have not vacated their accommodation after poll defeat.
"Those MPs who are staying in these Bhavans are staying there because their rightful accommodation has not been vacated by some of the leaders of Congress who have lost the elections."
"So, I think the root cause of all these problems is the Congress, and Rahul Gandhi would do well to go to the root and correct the system," she told reporters at event organized by NASSCOM here.
Asked to comment on the incident that has sparked outrage, Gandhi told reporters at Amethi "It is the ideology of BJP and Shiv Sena. Politics of bullying people is what they do. This is extremely damaging to the country and this we fight against everyday. "
Referring to the incident, Lekhi said "Since the appointment has been made by the NCP-Congress government in Maharashtra, I think the ownership of this particular incident also lies with the Congress for appointing those officers who do not do their work properly."
"I am sure that Sena did not know that person was on the fast. And if bad food is being served under the supervision of an officer what should remedy be?" Lekhi added.  Lekhi said,"hyping of an issue on any of these lines shows the ideology of the Congress which works on the lines that the administration will not do its job and will feed people with the bad food."
On Gandhi accusing the Narendra Modi government of doing nothing to control prices, Lekhi said the Congress Vice President has forgotten the price of onions shooting up to nearly Rs 100 during UPA rule.
"What price rise the gentleman is talking about? I think he has forgotten that the price of onion around this lean period between two crops went up to Rs 80 and Rs 100 when they were in power," she said.
Moreover, for the first time in the history of the country a certain sum has been kept aside in the budget for maintaining the prices in the market, she said.  "The kind of aggressive stance the government has taken to keep the prices under control, and while they would rise to Rs 80 or Rs 100, it is around Rs 30 to Rs 32," she said.