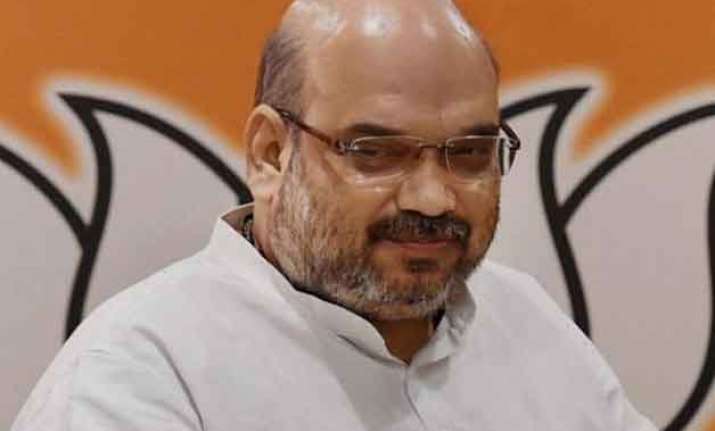 New Delhi: Gearing up for the Bihar Assembly elections due in 2015, the BJP today set an ambitious target of winning 185 seats in the high-priority state, where it had won 31 out of 40 seats in the last Lok Sabha polls.
At a meeting of top leaders chaired by party president Amit Shah here today, the BJP discussed strategies to capture around three-fourths of seats in the 243-member Bihar Assembly, through its 'Mission 185'.
Indicating its highest focus on victory in Bihar, the BJP has set for itself another major goal of enrolling 75 lakh members in Bihar alone, out of its total nationwide membership target of 10 crore.
Party sources said Shah personally urged party leaders to meet the membership target by March 31 following which he will hold a major outreach programme in the state in the form of a public rally at Patna's famous Gandhi grounds on April 14.
Shah in a marathon meeting today discussed Bihar election strategies with BJP's core group from the state comprising senior leaders like Sushil Kumar Modi, Nand Kumar Yadav and Mangal Pandey, besides state in-charge Bhupinder Yadav and BJP joint general secretary (Organisation) Sudan Singh.
Others present at the meet were Union ministers Radha Mohan Singh, Ravi Shankar Prasad, Rajeev Pratap Rudy, Ram Kirpal Yadav and former minister Shahnawaz Hussain.
The sources said the BJP's ambitious target in Bihar stems from the growing public disenchantment with the recent JDU-RJD alliance and visible strains in relationship between former arch rivals Nitish Kumar of JDU and Lalu Prasad of RJD.
"BJP President Amit Shah today chaired the meting of top Bihar leaders asking them to strengthen the connect with the people and continuing repeating the performance the party had in the recent Lok Sabha polls when it won 31 out of 40 seats," said Shahnawaz Hussain after the meeting.
"The focus of the party will be on Bihar Assembly polls now and all leaders have been asked to move out in a major public outreach programme to ensure the party's success... The BJP president will meet all Bihar BJP leaders on January 23 and 24 during his two-day visit to the state," Hussain said.
Electoral success in Bihar is crucial to BJP's strategy to muster a majority in the Rajya Sabha where its legislations are facing roadblocks on account of lack of numbers.