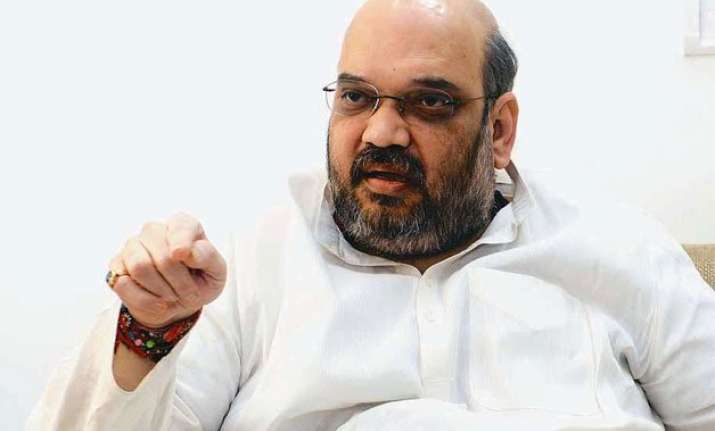 New Delhi: Lashing out at Arvind Kejriwal over his "bribery remarks", BJP president Amit Shah today said that the AAP leader has "insulted" the people of Delhi and asked them to give a befitting reply in the upcoming election.  
In an address to booth in-charges meeting at Rohini of northwest Delhi, Shah asked party workers to tell voters about what the AAP leader thinks about them.
"Despite issuing notice by Election Commission to Kejriwal, he speaks such things again and again. I want to ask Kejriwal whether the voters of Delhi are up for sale. Kejriwal has insulted the people of Delhi by saying that while people should accept bribe from BJP and Congress, they should vote for AAP," Shah said here.
He also asked BJP's workers to approach every voter and tell them about "What Kejriwal thinks about the voters of Delhi".
"Mr Kejriwal, you don't know about the voters living in Delhi who elect such representatives who rule the country through their governments.
"Delhi's voters know very well whom they will vote for...they are not the ones up for sale... and he should stop insulting them, else the people of Delhi will give a befitting reply by pressing the button on EVM on February 7," Shah said.  
Addressing workers, the BJP president said, "When you (BJP workers) go among voters, you should tell them that Kejriwal says that Delhi's voters should take bribe for giving votes, and also that if you (voter) take money for giving vote...nobody has any right to insult the voters of Delhi."
Shah added that after the good performance in Maharashtra, Jharkhand, Haryana and Jammu and Kashmir, the victory march of Prime Minister Narendra Modi has now reached Delhi and he was very sure that after wining Delhi, it will move towards Bihar.  "Don't take Delhi's poll as just an election... On the basis of Delhi's elections, the election of Bihar is to be fought," he said.
Shah asked party's booth in-charges and panna pramukhs here to approach voters and tell them about the "lies" of Aam Aadmi Party.
"He (Kejriwal) would say that they would not take support of either BJP or Congress. We didn't give support to him, but with the support of Congress, he stuck on to CM's chair. We should tell people about all these things," he said.  
Lambasting the AAP leader, Shah questioned why Kejriwal, who talks about purity in politics, goes to Dubai by travelling in "executive class" flight to collect funds.  "In the last Assembly elections, he would say that if they (AAP) came to power, they would register an FIR against Sheila Dikshit in CWG scam, but after taking support of Congress, they could not do so...we should also tell people of Delhi about these things," he said.