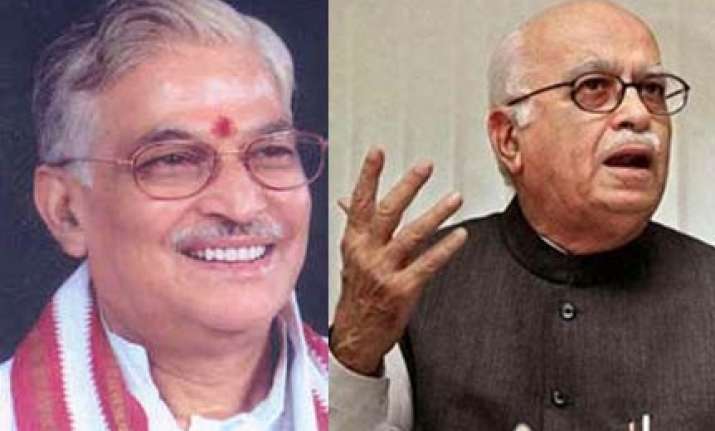 Senior BJP leaders L K Advani and Murli Manohar Joshi will not participate in the discussion on the Liberhan Commission findings in Lok Sabha on Tuesday following a decision by the party against fielding those indicted in the report. 
 "We have taken a conscious decision that leaders whose names appear in the accused list will not speak during the discussions," a senior party leader said on Monday .
While BJP President Rajnath Singh will initiate the debate on behalf of the party, its Deputy Leader in Lok Sabha Sushma Swaraj will be the second speaker.
"When there are so many MPs, then why should those whose name appears in the list of accused defend themselves," the leader added.  Party sources said that Advani, Joshi and Lalji Tandon, whose names appear in the list of accused in the report tabled in Parliament last week, can intervene at a personal level when their names are taken in the House.  Incidentally, Joshi will be Madhya Pradesh tomorrow and not present during the discussion. 
Similarly, Vinay Katiyar and Kalraj Mishra would not participate in the discussion on the Liberhan report when it take place in Rajya Sabha tentatively on December 7.
Leader of the Opposition in the Rajya Sabha Arun Jaitley and senior leader M Venkaiah Naidu are likely to speak on behalf of BJP in the Upper House.
Sources said it was likely that the discussion will be a high voltage one and could spill over to Wednesday.  
BJP has been given 58 minutes to put forth its views on the report and Singh and Swaraj will be pointing out "holes in the report" to defend its indicted leaders. "The speeches will have a dash of spirituality too," a source said.  
"By finding holes in the report, we can defend the Ram Temple movement and our leaders," a leader said when asked about the party's likely line during the discussion.  Sources said while limiting the speakers to only two, BJP plans to give each person more time to put forth the party's stand in an elaborate manner. 
BJP has sent text messages to all its 116 MPs to be present in the House tomorrow. "But it is not a whip...some of the MPs are busy in assembly elections in Jharkhand and bypolls in Chhattisgarh," said sources. PTI