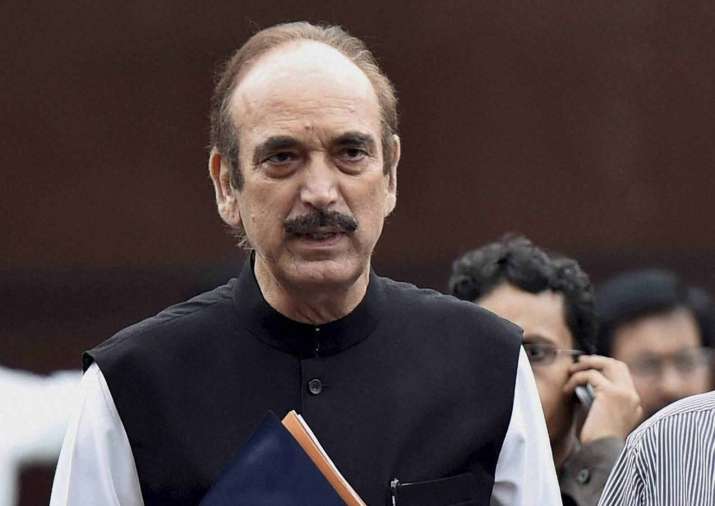 Miffed over Hurriyat leaders refusing to meet with members of the all-party delegation visiting Kashmir, senior Congress leader Ghulam Nabi Azad on Monday hit out at the separatists, saying they should not choose to meet only the Pakistan High Commissioner.
Azad said he felt that the all-party delegation's visit to Jammu and Kashmir was "fruitful" though it did not give the desired result.
Speaking to reporters, he said the delegation "tried to reach out to everyone" but it is the government that has to identify the stakeholders.
Azad said the talks have not given "desired results" but efforts have been made and remained fruitful.
"The separatists also should not choose to meet Pakistan High Commissioner only. Everyone wants to find a solution to the Kashmir issue. Everyone in the country is worried about the situation," Azad said, a day after Hurriyat leaders rebuffed attempts by some MPs to hold talks with them.
The Leader of Opposition in Rajya Sabha said that Congress wants that the door for talks should be kept open.
"Some friends tried to reach out to Hurriyat. At some places they succeeded, at some they did not," Azad said.
He said the visit is not yet complete and the meetings are going on.
The all-party delegation which wrapped its Srinagar-leg of the two-day visit arrived here in the afternoon.
Home Minister Rajnath Singh is leading the 26-member delegation on a two-day visit that the separatists have dismissed as a futile exercise.
On the issue of Kashmiri Pandits, Azad said, "In the three round table conferences they participated. Why they are not coming is a surprise. The suggestions made by them were addressed then. They could have come today also.... Time is no concern when Parliament plans to discuss a issue."
The Kashmiri Pandits have refused to meet the all-party delegation saying the time given to them is very less.
"Kashmiri people are suffering. Nothing is working. We want peace to come to the Valley. It was a fruitful visit where good suggestions were received," he said.
Rajnath Singh also slammed the separatist faction and dubbed their actions as not being consistent with both 'Kashmiriyat' and 'Insaaniyat'.
Addressing a press conference in Srinagar, Rajnath said, "Some members of delegation went to meet Hurriyat leaders. We neither approved nor disapproved. The delegations members had gone to meet Hurriyat members in their individual capacity."
"Everybody wants the situation in Kashmir to improve," he said, adding, "There is no doubt that Jammu and Kashmir is, has and will be an integral part of India.
"We are willing to speak with anyone who wants piece in Kashmir and the Centre and state are working to alleviate the situation here."
On Sunday, a small group from the all-party delegation, which tried to meet and speak to separatists at their homes and in prisons, found out just how cold they were as much of the Valley remains under curfew.
The 26-member all-party delegation was expected to interact with a cross-section of people with a view to restore peace in the strife-hit Valley, but was notably snubbed by members of the separatist Hurriyat Conference.