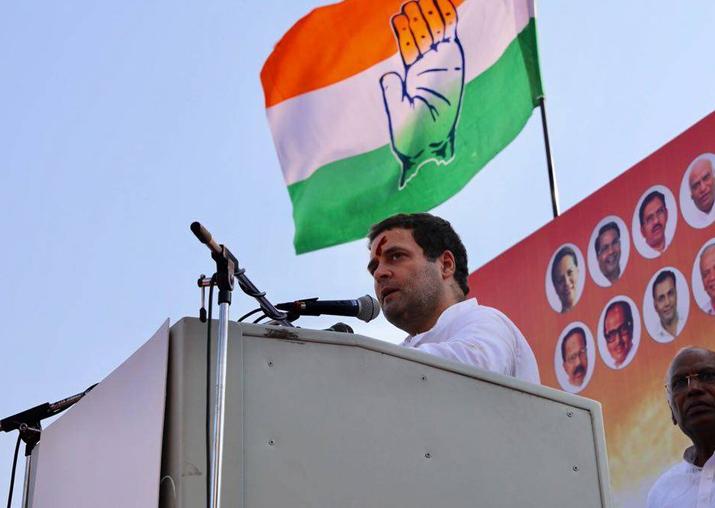 Congress president Rahul Gandhi today said that Prime Minister Narendra Modi is "insulting" the common man by claiming credit for India's progress. 
Rahul, who is on a two-day tour of Karnataka from today, accused the BJP of dividing people despite its talk of dharma.
"Wherever Narendra Modi goes he says in the last 70 years nothing has happened. He is insulting your parents, poor farmers, labourers, small businessmen of India. If this country stands as equal to other countries of the world today, it has not happened in two years. It has taken years of time, sweat and blood of common people. Modi should stop insulting the common man," he told a party rally at Padubidre in coastal Udupi district.
This is Rahul's third pre-election visit to the poll-bound state.
The Congress leader further accused the Prime Minister of favouring big businesses by waiving their loans while ignoring farmers.
No single person can take a country forward, he noted.
Rahul spoke about social reformers to attack the BJP, which he accused of dividing people.
"BJP people talk about dharma, but wherever they go, they divide people by pitting one against the other. On one side they praise Basavanna and Narayana Guru (social reformers), and on the other every day they indulge in things that these two great people fought against," he said.
The atmosphere is buzzing with excitement and festivities as a cheerful crowd eagerly awaits Congress President @RahulGandhi's arrival at Jyothi Circle, Mangaluru #JanaAashirwadaYatre #RGInKarnataka pic.twitter.com/gQzb8X0ldS

— Congress (@INCIndia) March 20, 2018
Rahul, who visited the northern parts of the state during the previous two rounds, in now on a two-day trip of south coastal Karnataka and Malnad regions.
Udupi, Dakshina Kannada, Chikkamagaluru, which have a strong BJP presence, and Hassan, the home district of former prime minister and Janata Dal (Secular) supremo H D Deve Gowda, are on his itinerary.
Noting that five major banks originated in Udupi district, Gandhi said the Congress party's idea behind that was to take banks to the people, and blamed the Modi government for mounting non-performing assets (NPAs).
Congress President Rahul Gandhi is greeted by enthusiastic crowds in Surathkal and Mulki in Dakshina Kannada #JanaAashirwadaYatre #RGInKarnataka pic.twitter.com/GDjHLS3URO

— Congress (@INCIndia) March 20, 2018
"We took banks to villages, but if you see today there are NPAs worth lakhs of crore of rupees of rich people. About 10-15 rich persons of India have taken away your Rs 8 lakh crore. In the last few years, BJP has waived Rs 2.5 lakh crore loans taken by 15 rich people... but when a farmer asks for loan waiver Narendra Modi and Arun Jaitley (Finance Minister) say it is not our policy," he added.
Repeatedly invoking social reformers Narayana Guru and Basavanna, Gandhi said the two preached "we are all one".
"Narendra Modi speaks about Basavanna and Narayana Guru. I want to ask him a question. You speak about Basavanna and Narayana Guru, then why do you differentiate between rich and poor?" he said.
Rahul, who has been visiting religious places during his election tours recently, will pay obeisance at Gokarnatheswara Temple, Rosario Church, Ullal Dargah, Sringeri Sharadamba Temple and also Sringeri Mutt. He will also meet the Shankaracharya of the Sringeri Mutt.
The Assembly elections in the state are likely in April-May.
With PTI Inputs