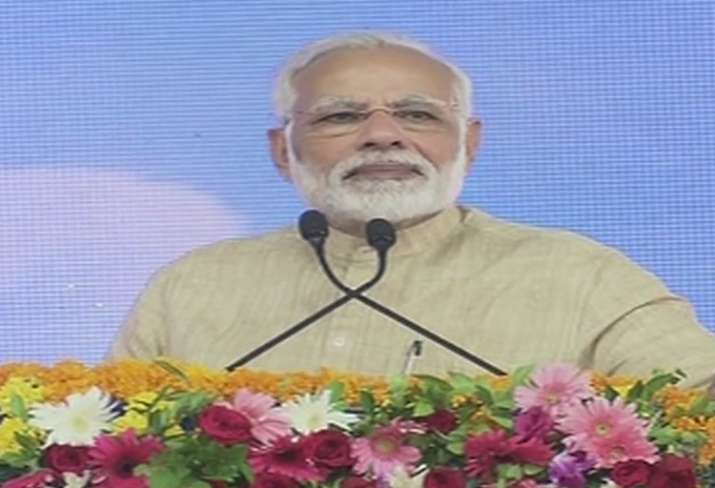 Prime Minister Narendra Modi on Sunday arrived in Vadnagar on a day-long visit to his birthplace in Mehasana district. This is Modi's first visit to his ancestral village as prime minister. 
The town has been decorated with photos of the Prime Minister, model tea cups and hoardings of government schemes. The Vadnagar railway station has been decorated giant tea kettles, eulogising the Prime Minister's time as a tea seller. Narendra Modi in his childhood would often help his father and paternal uncle, and also deliver tea to train passengers. 
For days ahead of the prime minister's visit, the administration was busy working on roads and ensuring cleanliness. Fire engines have also been deployed inside the railway station for cleaning of trees on its premises. 
Highlights of PM Modi's Vadnagar visit:
12:30 pm: Today I met youngsters from a medical college. We as a society require more doctors who can serve people: PM Modi 
12: 25 pm: Doctors and good food may or may not guarantee good health, but cleanliness does: PM Modi 
12:24 pm: Disease do not dare to come if there is sanitation: PM Modi 
12:23 pm: We brought prices of stents down. Work is constantly being done to make healthcare affordable for the poor: PM Modi 
12:20 pm: First Health Policy came when there was Atal ji's government at the Centre. For 10 years after that, the government hated development: PM Modi 
12:19 pm: I am happy that I have got to inaugurate projects relating to the health sector, particularly Intensified Mission Indradhanush: PM 
12:18 pm: I appeal to people to help in whatver way they can to spread the the "Indra Dhanush" movement: PM Modi 
12:10 pm: I will go from here with renewed energy. I promise you I will work harder for my country after return: PM Modi 
12:08 pm: Whatver I am is because of this soil: PM Modi at Vadnagar 
12:07 pm: Coming back to one's home town and receiving such a warm welcome is special: PM Modi
12:06 pm: General Cariappa once said the honour and love that you receive in your home is unmatchable: PM Modi 
12:05 pm: PM Modi begins his speech at Vadnagar 
11:50 am: Prime Minister Narendra Modi to soon launch Mission Intensified Indra Dhanush, an immunization program
10:52 am: PM Narendra Modi dedicates Vadnagar's  GMERS Medical College to the nation
10:30 am: PM Modi offers prayers at Hatkeshwar Temple 
10:25 am: PM Modi visits his school in Vadnagar
09:40 am: PM Modi begins his roadshow in his hometwon Vadnagar
09:30 am: Prime Minister Narendra Modi arrives in his hometown Vadnagar
Prime Minister's elder brother Somabhai Modi said his father had built a house in Vadnagar in 1949 but it was destroyed in the 2001 earthquake, following which they sold the land. He said the family has constructed a shelter home for the elderly in the village. 
The prime minister's school teacher, Dr Prahlad Patel, said he hopes to meet Narendra Modi who writes letters to him occasionally. 
The prime minister will also inaugurate a medical college and a hospital, and a new building at the local railway station, according to officials. 
The prime minister yesterday began his Gujarat visit with prayers at the Dwarkadheesh temple in Jamnagar and performed 'bhumi pujan' at Rajkot airport.