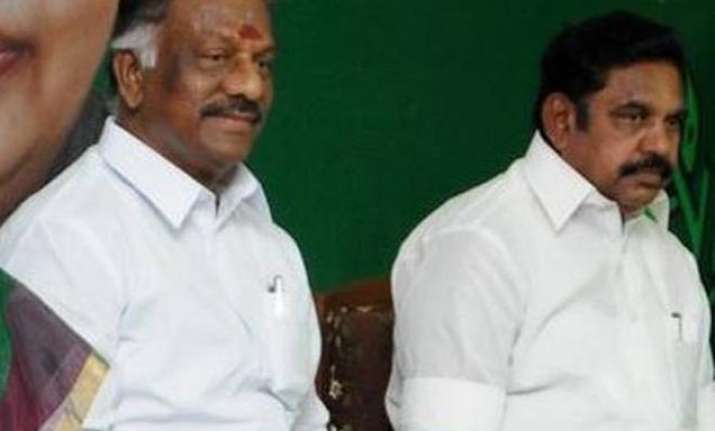 Former Tamil Nadu Chief Minister O. Panneerselvam will head a merged AIADMK while Chief Minister K. Palaniswami will continue to head the government, said a leader from the Panneerselvam faction.
The leader also said the government can look into the possibility of reviving the Legislative Council or Upper House of the assembly to accommodate members in the party without showing the door for those now holding posts.
"As regards party affairs, Panneerselvam will be the number one and Palaniswami number two. In the government, Panneerselvam in most probability will be the Deputy Chief Minister," the leader told IANS on the condition of anonymity. 
"There will be couple of ministerial berths for legislators from our group," he added.
This is the contour of the merger plan the two factions in the AIADMK have agreed upon.
Queried about the corruption charges levelled by the Panneerselvam group against the government, he said: "Those things will be corrected. The government and the party will be set right."
Panneerselvam had said on Saturday: "There are no differences in the AIADMK and the talks for merger as desired by the people of Tamil Nadu and AIADMK cadre are proceeding smoothly. As early as possible, a good decision will be reached."
On August 18, the two factions were close to a merger and an announcement was expected at the memorial to former Chief Minister J. Jayalalithaa on the Marina beach but last minute complications delayed the development.
Chief Minister Palaniswami on August 17 announced a judicial probe into the death of Jayalalithaa and converting her residence at Poes Garden into a memorial, paving the way for a merger between the two factions.
However, the other fundamental demand of the Panneerselvam group - expulsion of AIADMK General Secretary and the now jailed V.K. Sasikala and her family from the party - is yet to be fully met.
The Palaniswami faction had declared the appointment of T.T.V. Dinakaran, Sasikala's nephew, as Deputy General Secretary as "improper, unacceptable and invalid". This was challenged by Dinakaran.
If the AIADMK merges, the party will get back its popular "two leaves" symbol which has been frozen by the Election Commission.
AIADMK leader K.P. Munuswamy on Saturday rejected reports that he was a stumbling block in the merger of the two factions but said the expulsion of Sasikala was necessary in the interest of the party and the state.
Munuswamy, a former minister and a veteran from the Panneerselvam faction, said the expulsion of Sasikala, a close aide of the late Jayalalithaa, was the basic requirement of "dharma yuddham" launched by Panneerselvam.
"I have taken a hard position on this matter. How can this be called an obstacle?" he asked.
But Munuswamy added that he and others would abide by whatever decision Panneerselvam takes.
The Upper House in Tamil Nadu was abolished by AIADMK founder and late Chief Minister M.G. Ramachandran in 1986. Attempts to revive it by a DMK government were cancelled when the AIADMK came back to power.