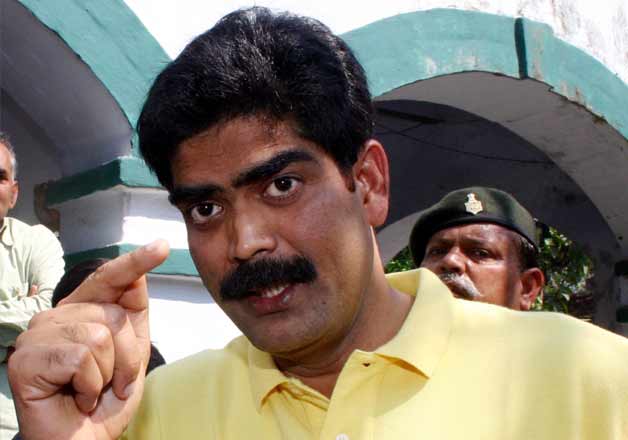 The Bihar government, which has just witnessed a major onslaught in wake of the release of gangster Mohammed Shahbuddin, may invoke Crime Control Act (CCA) against the former RJD MP and criminal-turned-politician to put him behind bars once again.
Facing strong criticism from several quarters over its failure to stop Shahabuddin's release from jail, the state government is now looking to slap the Act against the former Siwan MP, which will land the leader in detention on the ground that he could influence the trial.
Shahabuddin was released from prison after 11 years last week, triggering outrage and underscoring the deteriorating law and order situation in the state where Lalu Prasad Yadav and Nitish Kumar, the arch rivals-turned-friends, are in power.
Rajiv Roshan, whose murder is at the centre of the case, had been killed in Siwan in June 2014 but the Siwan police have not started trial in the over two years since. It was only the absence of bail in this case that had been keeping Shahabuddin in jail.
Shahabuddin got a tumultuous welcome by hundreds of cheering supporters as soon as he walked out of the Bhagalpur Central Jail on Saturday.
He soon stirred up a row by saying that his leader was RJD's Lalu Prasad, not Bihar CM Nitish Kumar.
"My leader was Lalu Prasad, my leader is Lalu Prasad and my leader will be Lalu Prasad. Nitish Kumar changes his stance according to the situation. He is not my leader. Lalu will always be my leader," Shahabuddin told the media.
His remark triggered a controversy with opposition BJP alleging that his release has vindicated the party's stand that the state government is keen to leave the state at the mercy of criminals. 
CM Kumar, however, has said that just as Shahabuddin's long stint in jail had been part of judicial process, so has his bail.
Shahabuddin faces 35 criminal cases including murder, extortion and kidnapping. He was convicted in seven cases.