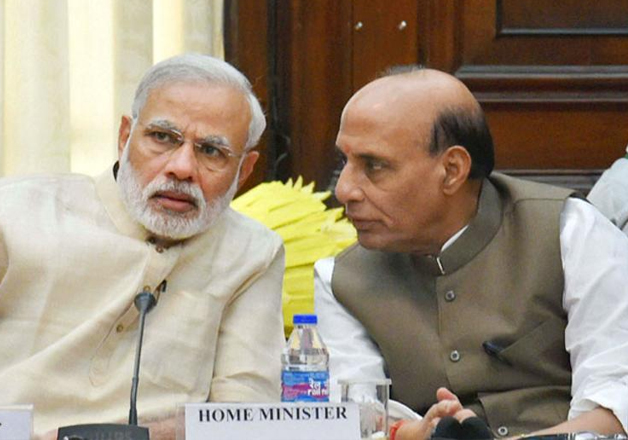 The opposition Congress has accused the BJP-led NDA government of ignoring internal security and using it merely for electoral gains. 
Addressing the media here on Wednesday, Congress spokesperson Ajoy Kumar said that the BJP and the Sangh Parivar are indulging in 'fake news' and propaganda to 'befool' voters in Assembly elections.
"In the last 32 months, 188 security personnel have laid down their lives for India. There were 10 attacks on our security establishments. There has been a 200 per cent rise in  infiltration. It is for the people to decide if the Modi  government has made India more secure or less secure. Soldiers are being killed. Prime Minister is in election  mode perennially, the Home Minister is busy campaigning and  the Defence Minister is in sleep mode and whenever he gets up, he is in Goa. The country's safety and security is just an  election talk for this Government," Kumar said. 
He said that in 2016, 105 jawans were killed and 82 civilians also lost their lives and in various terror attacks perpetrated on India and its people. 
The Congress leader noted that India has recorded the maximum number of bomb blasts last year, which is even more than war-torn countries like Afghanistan or Iraq. 
Slamming the government over its Pakistan policy, Kumar said the Congress would support this government if they have a strategic plan in making India safer. 
"The unfortunate part of this government is that it continues to use national defence for politics only. They have been exposed by the number of jawans and civilians killed. Their repeated failure in isolating Hafiz Sayeed and Azhar Masood is a result of the Prime Minister's one-man show without consultations and discussions," he said. 
Kumar also lamented that China has repeatedly "sabotaged" India's attempts at the United Nations. 
"The Prime Minister has to answer that when he was swinging in the swing on the banks of river Sabarmati, how come such close so-called friends have ensured that India's efforts failed," he said.
Referring to a recent video of BJP chief Amit Shah purportedly wooing Jats in UP, the Congress spokesperson said, "It clearly shows that BJP has lost the plot. They have understood that they have lost the public support."
Taking a dig at the government over the "hacking" of Union Home Ministry's website, Kumar said, "If a government cannot safeguard its own Home Ministry website, then is it capable of safeguarding the nation?" 
The Congress leader said BJP keeps on saying they will give a strong response to attacks. "But their response has been to send artistes to Karachi," he said. 
Attacking BJP over publication of an exit poll through a Hindi Daily and attributed to a research organisation, he said, "The BJP and the Sangh Parivar have old habit of spreading fake news and propaganda, especially on social media." 
He alleged that BJP's "sheer desperation" is visible when its "dirty tricks department is working overtime to conduct fake exit polls and news". 
"Staring at an imminent defeat, the BJP is creating fake propaganda to influence voters," he alleged, adding, "If there is one thing that the BJP IT Cell is good at, it is Adobe Photoshop. They may be its biggest users." 
He claimed that people of five states have already made up mind to vote for Congress. 
Referring to a purported audio involving Union Minister Ananth Kumar and B S Yeddyurappa and corruption charges, he wondered why the Prime Minister is "silent". 
Kumar also thanked the voters of Uttarakhand and Uttar Pradesh for coming out to vote in large numbers.
With PTI Inputs