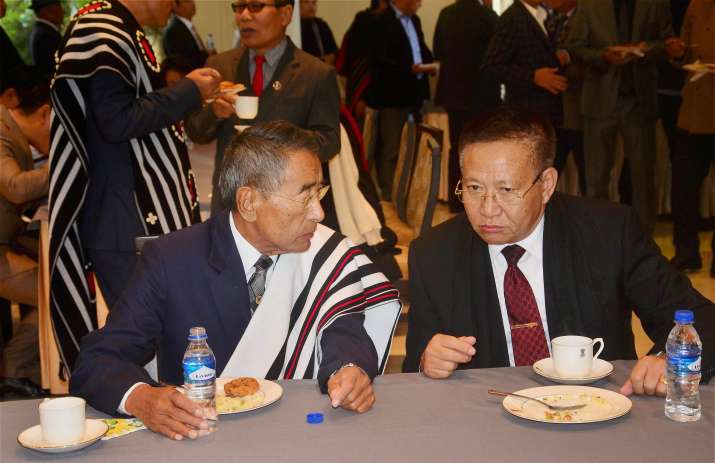 Nagaland plunged into a political crisis today with former Chief Minister T R Zeliang staking claim to form a new government by ousting the incumbent Shurhozelie Liezietsu. Zeliang claimed support of 41 of the 59 MLAs in the state Assembly and wrote to Governor P B Acharya, urging him to invite him to form the new Naga People's Front (NPF)-led DAN government at the earliest. 
Following Zeliang's move, Liezietsu sacked four ministers and 11 parliamentary secretaries. 
Zeliang, who had to step down on February 22 following statewide protests against holding of polls to urban local bodies with 33 per cent reservation for women, asserted that he had got the support of 41 MLAs after a majority of ruling NPF legislators rebelled against Chief Minister Liezietsu. 
In a letter to the governor, Zeliang said that at a meeting of the Legislature Party of the NPF on June 4, 34 party MLAs (including him) out of the total 47, supported him to be their leader and wanted him to stake claim to form a new government. 
The MLAs also urged Liezietsu, who is yet to become a member of the Assembly, to resign and facilitate Zeliang to become the new chief minister, the letter said. 
Zeliang also claimed that seven Independents had also affirmed their support to him taking the tally to 41 out of 59 legislators. 
The 34 NPF legislators, who have extended their support to Zeliang, have been camping at a resort in Kaziranga in Assam, where they held a meeting last evening, NPF sources said. 
They told PTI last night that 33 MLAs were in Zeliang's camp, while 11 each were in the camps of Liezietsu and Lok Sabha MP and former chief minister Neiphiu Rio. 
The rest of the MLAs in the 60-member House are maintaining neutrality. 
Meanwhile, the chief minister dismissed four ministers -- Home Minister Y Patton, Power Minister C Kipili Sangtam, Forest Minister Imkong L Imchen and PWD (NH) minister Kaito Aye. 
The chief minister had late last night issued separate termination orders against 11 parliamentary secretaries and TR Zeliang who was the financial advisor to the chief minister (cabinet status). 
The political crisis arose at a time when Liezietsu, also the NPF president, is gearing up for the July 29 by-election from the Northern Angami-I Assembly seat, vacated by his son. 
Khriehu Liezietsu, son of the chief minister, had resigned on May 24 to enable his father to contest and be an elected member of the assembly to continue in office. 
Liezietsu had taken over from Zeliang on Februrary 22 this year following the state-wide protest against the holding of election to the urban local bodies with 33 per cent reservation for women. 
This is the fourth time in the NPF-led DAN government when MLAs are active in ousting an incumbent chief minister. 
Since 2014 when Neipheu Rio resigned as chief minister to contest the Lok Sabha polls, the NPF government faced similar crisis twice in 2014 and 2015.