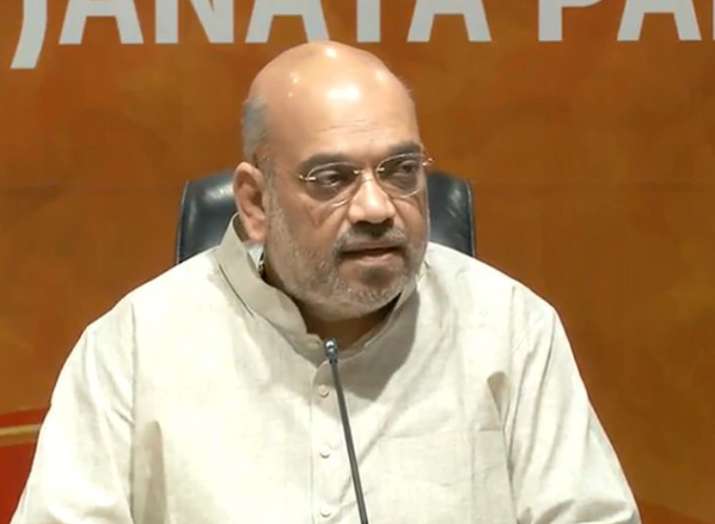 Describing the post-poll alliance between the Congress and Janata Dal (Secular) in Karnataka as 'unholy', Bharatiya Janata Party President Amit Shah on Monday slammed the Congress for abusing the mandate given by the people. Shah said the Congress not only indulged in 'horse trading but sold its whole stable'.
Addressing his first press conference after BS Yeddyurappa resigned before floor test last week, Amit Shah said the Congress has found a new way of portraying defeat as its victory. Shah also asked the Congress to explain to the people of Karnataka why they were celebrating even when most of their ministers had lost election. 
"Only Congress and JD(S) are celebrating, people of Karnataka are not (celebrating). They are celebrating our defeat in 9 Lok Sabha by-polls and have forgot the defeat they suffered in 14 states," Amit Shah told reporters. | Also read: Amit Shah press conference - Highlights
Claiming that the mandate given by the people of Karnataka was anti-Congress, Shah said there was nothing wrong in the BJP staking claim for forming the government as it had emerged as the single largest party
"If we had not staked claim to form government, it would have been against the mandate of Karnataka people," he asserted .
"Congress is now starting to have faith in constitutional bodies like Supreme Court, Election Commission and they even like EVMs," Shah said and voiced hope that it continues even when the Congress loses and is unable to form the government, taunting the party which has been critical of the the poll panel and the apex court's functioning in recent times. 
Responding to a question, Shah said that the Congress has no right to preach about Constitution and Democracy.
"Congress party with a history of dismissing more than 50 governments by abusing Article 356 has no moral right to preach us on Democracy and Constitution. It is the same party which banned the media during emergency," he said, adding that the BJP will retain power with full majority in 2019. 
Watch: Mandate in Karnataka was anti-Congress, says Amit Shah