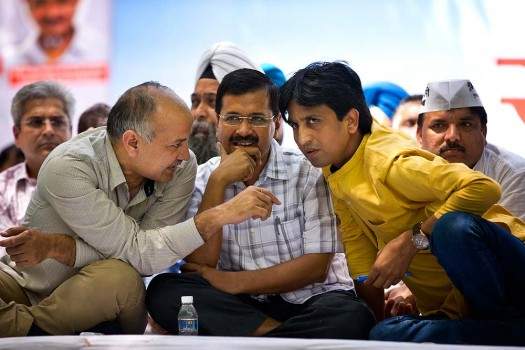 Top leaders of the Aam Aadmi Party have denied any discussion in the party on the lines of co-founder Kumar Vishwas' proposal to reinstate leaders who had left the party as part of what he termed the 'AAP 2.0' during a meeting with volunteers and workers at the party office at Rouse Avenue on Sunday.
"No such invitations have been extended from the party to the leaders who left us. Neither are there any plans of bringing them back. It seems like an idea floated by Mr. Kumar and has no official backing," AAP spokesperson Sanjay Singh said.
Vishwas had on Sunday called for 'AAP 2.0' that would recapture the people's imagination. He had also suggested the return of senior members who had left the party back into the party fold. The remarks had set off speculation of the return of Prashant Bhushan and Yogendra Yadav into AAP.
The party also sought to distance itself from Kumar's remarks on caste-based reservations, and expressed support for quota in education, jobs and in elections.
In a speech at AAP headquarters in October, Vishwas had condemned the system of reservation, saying: "A man in the Indian history divided the country in the name of his so-called revolution of (caste-based) reservations. The effect of it is being felt even today.
"Similarly, the present government at the Centre will divide the country in the name of religion and that will create a long-lasting effect on the unity," he had said.
Contrary to Vishwas' opinion on quota, Singh said the AAP supported reservations as "it is a party that works for the poor, the impoverished and the underprivileged sections of the society".
"There cannot be a competition between two individuals who don't stand on the same tangent. If one person stands at 0 and the other stands at 20, there is no point in putting their challenges on the same level and giving them same opportunities," AAP leader Sanjay Singh told the media.
"An individual's opinion should not be used to defame the whole party," he added.
AAP's clarification came after BJP MP Udit Raj announced that he would "ask AAP chief Arvind Kejriwal if he supports Kumar Vishwas' remark against Ambedkar that he destroyed social harmony by reservations".
This is not the first time that Kumar has openly criticised the AAP. The rift between him and the party leadership grew wider after Okhla MLA Amanatullah Khan was reinstated in the party.
Khan had accused Kumar of planning a coup against Chief Minister Arvind Kejriwal and called him a "BJP agent".
(With IANS inputs)