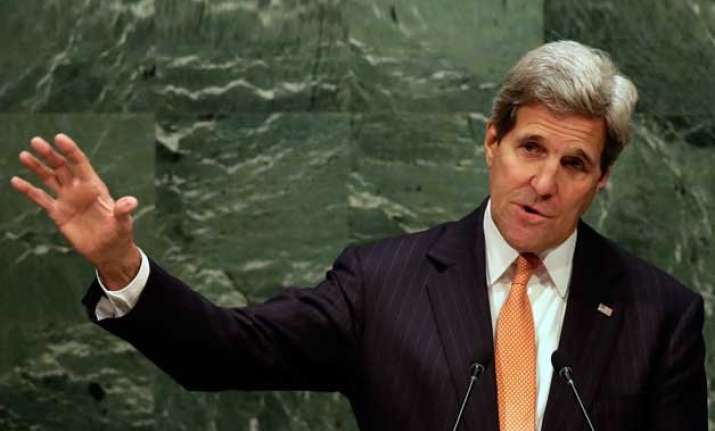 United Nations: The world powers are "closer than ever" to clinch a "good comprehensive deal" with Iran that will prevent it from obtaining a nuclear weapon but some key issues still remain unresolved, US Secretary of State John Kerry has said.
"The United States and our P5Ư partners have come together with Iran around a series of parameters that, if finalised and implemented, will close off all of Iran's possible pathways to the nuclear material required for a nuclear weapon, and give the international community the confidence that it needs to know that Iran's nuclear programme is indeed exclusively peaceful," Kerry said at the 2015
Nuclear Nonproliferation Treaty Review Conference yesterday. Kerry, however, told the international community that the "hard work is far from over and some key issues remain unresolved."
Still the P5Ư, comprising the US, the UK, Germany, France, Russia and China facilitated by the European Union, are "closer than ever to the good comprehensive deal that we have been seeking. And if we can get there, the entire world will be safer," he said here.
Kerry said from day one, the world powers have been focused on bringing Iran back into compliance with its obligations under the Nuclear Nonproliferation Treaty (NPT).
"And if ultimately the talks are successful, it will once again prove the power of diplomacy over conflict and reinforce the rule of law," he said.
The top US diplomat assured the international community that any deal with Iran will "rely not on promises, not on words, but on proof."
"It will arrive -- rely on verification, which is really at the centre of the NPT and the entire IAEA process," he said, adding that verification is at the heart of the NPT.
He pointed out that one way to support non-proliferation goals is to strengthen the International Atomic Energy Agency (IAEA) safeguards in order to ensure that the agency has exactly what it needs in order to be able to verify safeguard agreements.
"That's why the United States is working to bring the Additional Protocol into force globally and to make it the standard, the global standard for safeguards compliance," he said.
 The 2015 Review Conference will run at UN Headquarters in New York till May 22.
The President-designate of the Conference is Ambassador Taous Feroukhi from Algeria.