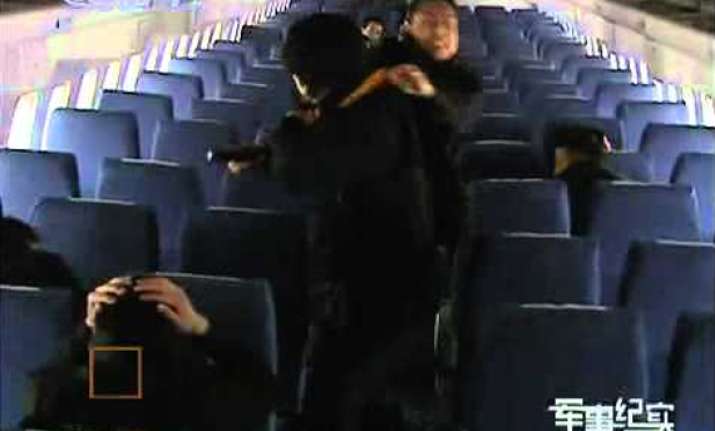 Beijing, Jul 2:
Two men who allegedly tried to hijack a plane in far west China by battering the cockpit door with a crutch and trying to set off explosives have died, state media said Monday.
Earlier reports said six Uighur men were arrested Friday following the foiled hijack attempt in Xinjiang region. Four crew members were injured in the tussle. Xinjiang is home to a large population of minority Uighurs (pronounced WEE'-gurs), but is ruled by China's ethnic majority Hans.
There have been clashes between authorities and Uighurs resentful of government controls over their religion and culture.
An overseas rights group says the incident wasn't a hijacking attempt but an in-flight brawl over a seat dispute.
The state-run Global Times newspaper reported that two of the suspects had died in hospital from injuries sustained in the fight with passengers and crew, but didn't say when. The report cited local officials who weren't identified by name. Global Times said two others were hospitalized after mutilating themselves, but gave no details.
The report said authorities were investigating how the men, aged 20 to 36 and all from the city of Kashgar in the west of Xinjiang, managed to get the explosives past security checks.
Xinjiang regional government spokeswoman Hou Hanmin said she wasn't immediately able to comment on the report.
The plane carrying 92 passengers and nine crew members safely returned to Hotan city in southern Xinjiang 22 minutes after takeoff, according to operator Tianjin Airlines.
Dilxat Raxit, spokesman for the German-based World Uyghur Congress which campaigns for Uighurs' rights, said Friday that it wasn't a hijacking attempt but an in-flight brawl over a seat dispute.
Friday's incident occurred just a few days before the anniversary of the July 2009 riots in Urumqi when nearly 200 people were killed in fighting between Han Chinese and Uighurs.
Tensions are already high in Hotan, where authorities raided a religious school recently and are conducting home searches, according to the Washington-based Uighur American Association.