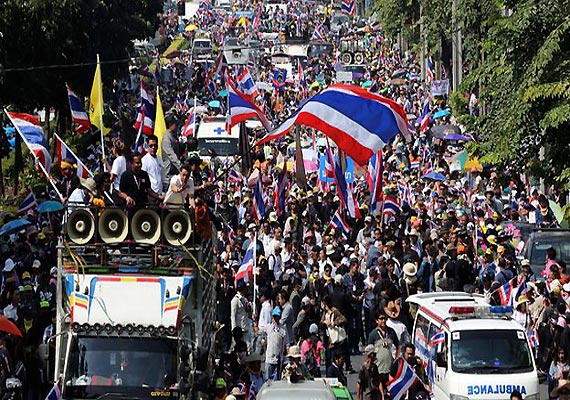 Bangkok: The Thai Constitutional Court Friday annulled last month's general election, leaving the country in political limbo without a full government and further undermining a prime minister faced with impeachment over a failed rice subsidy scheme.
The court judges ruled in a 6-3 vote that the Feb 2 election was unconstitutional because voting failed to take place on the same day around the country.
Anti-government protestors had stopped voting in about a fifth of constituencies, and in 28 of them voting was not possible at all because candidates were unable to register, the Bangkok Post reported.
"The 2013 royal decree on the House of Representatives dissolution stated that the general election must be held Feb 2, 2014. But on that date, no election was held in 28 constituencies," the court said.
"Re-elections for the 28 constituencies after Feb 2 are, therefore, impossible because it would mean the elections were not held on the same date throughout the kingdom," the court added.
The anti-government protests were the latest chapter in an eight-year crisis that pits Bangkok's middle class and royalist establishment against supporters of Prime Minister Yingluck Shinawatra and her brother, ex-premier Thaksin Shinawatra, who was toppled by the army in 2006 and lives in exile to avoid a jail term for graft.
Over the past five months, the protestors have shut government offices and at times blocked major thoroughfares in Bangkok to try to force Yingluck out. Twenty-three people have died and hundreds have been injured in the violence.