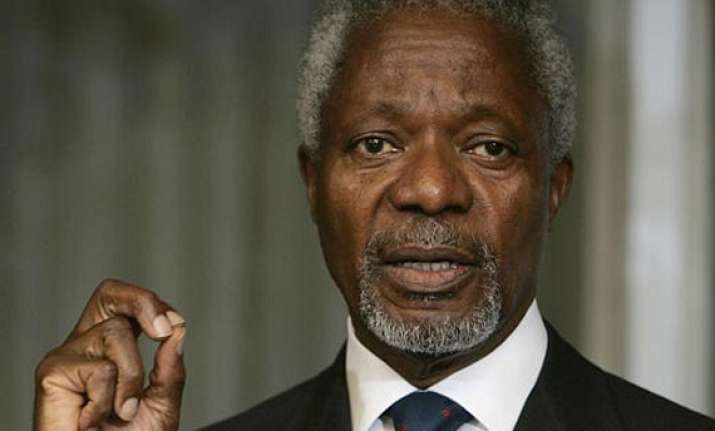 Damascus, Jun 28:  A plan for an interim government for Syria being canvassed by peace envoy Kofi Annan received a mixed response from Russia today and a negative reaction from the exiled opposition.
Russian Foreign Minister Sergei Lavrov poured cold water on hopes that world powers have already agreed a common strategy ahead of an international conference in Geneva at the weekend on ending the spiralling conflict.  
He said Russia backs a political transition in Syria but rejects Western pressure to call for the exit of its longtime ally President Bashar al-Assad, a position at odds with the opposition Syrian National Council which said it will only take part in a transitional government after Assad quits.  
Twin bombs went off outside the Palace of Justice in the heart of the Syrian capital today, state media reported, a day after a pro-government television station came under deadly attack.
At least seven people were killed in other violence a day after what the Syrian Observatory for Human Rights described as one of the bloodiest days of the 15-month uprising, adding urgency to Saturday's gathering in Geneva.  The Russian foreign minister said it was a mistake to exclude Syria's ally Iran from Saturday's meeting of world and regional powers.
Neither the Islamic republic nor its Middle East rival Saudi Arabia have been invited.  "Iran is an influential player in this situation and to leave it out of the Geneva meeting, I believe, is a mistake," Lavrov told a news conference.
He said Assad's fate "must be decided within the framework of a Syrian dialogue by the Syrian people themselves." "Foreign players should not be dictating their solutions to the Syrians. We do not and cannot support any intervention or solutions dictated from abroad," he said.  
Lavrov said there was "clearly" a need for a political transition in Syria but said world powers had still not agreed on a final document based on Annan's proposals for the talks.