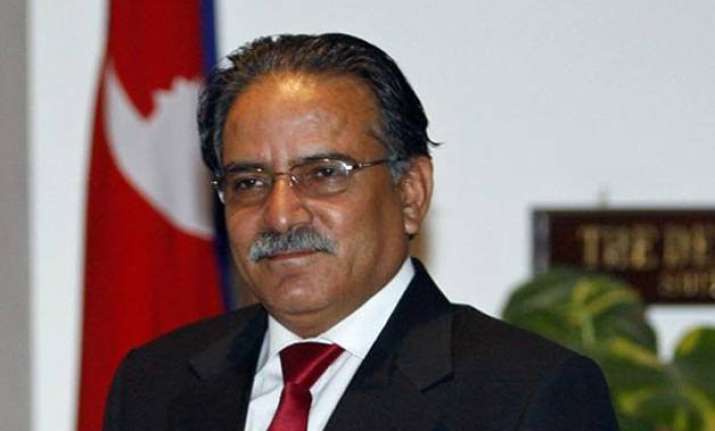 Kathmandu: Nepal's former prime minister and Maoist chief Prachanda will visit China next week for high-level meetings with Chinese leadership amid anti-India sentiments in the country.
China has invited the chiefs of UCPN-Maoist to attend the Silk Road Reconstruction Summit and Prachanda will embark on a four-day visit on October 15, according to party sources.
The China visit by the Maoist chief at a time when Nepal is facing blockade on the Indian side of the border is termed here as significant.
Nepal government has turned to China to open its northern border points which was closed during the April's devastating earthquakes as the country faces acute shortage of fuel and other essentials on the eve of the national festivals like Dussehra and Diwali.
Nepal-China border at Tatopatni situated in the east of Kathmandu has already opened for the past few days and another check point at Rasuwagadhi is likely to open before the festival with efforts being intensified by both the sides.
"We cannot bow down before anyone's pressure or persuasion. It is a matter of our conscience and self-respect.
This time Nepalese people have realised their 70-year-old dream of writing their own Constitution by themselves," Prachanda said on September 22.
Prachanda has recently met Chinese ambassador to Nepal and asked him to supply petroleum products by opening the northern border. The opening of the Northern border at the earliest is also important for Nepal for importing other essential goods including goats and sheep during the forthcoming Vijaya Dashami festival.
Prachanda will hold high level political consultations in China and is expected to meet President Xi Jinping to appraise him of the latest political developments, according to the party's sources.
China has issued statements welcoming the promulgation of the new Constitution in Nepal and pledged to provide necessary support as the country moves towards economic prosperity and development.
Prachanda, who is the strong supporter of the 'Silk Road Revival Project' brought by Xi, is also scheduled to address a special conference which is being organised at the initiative of International Conference of Asian Political Parties.
There have been many anti-India protests in Nepal as some people feel that India has been retaliating against their government after the promulgation of its new Constitution, over which India has been clearly irked as it feels the statute was discriminatory to Madhesis.
Madhesis are Indian-origin inhabitants of the Terai region bordering India who are opposed to splitting Nepal into seven provinces.