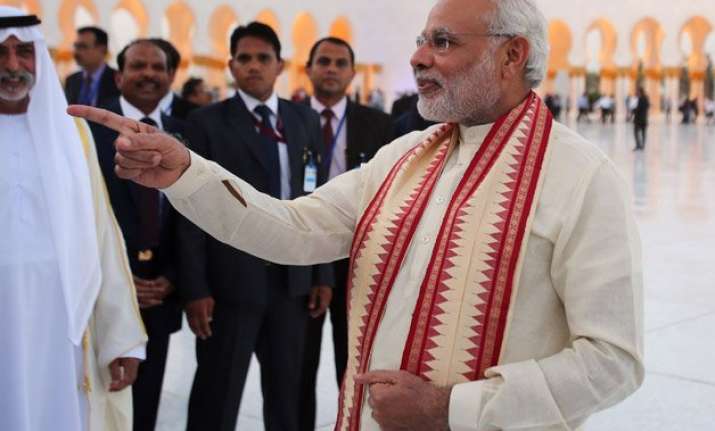 Abu Dhabi: Prime Minister Narendra Modi, who is on two-day visit to UAE, will today address the Indian diaspora at the Dubai cricket stadium.
Crowd management during Modi's address is proving to be a logistical nightmare for the organisers as 50,000 people are expected to swarm the Dubai International Cricket stadium which has a capacity of only 32,000 people.
The Prime Minister will also hold discussions with the Crown Prince, who is also the Deputy Supreme Commander of the UAE Armed Forces.
He will also hold talks with Prime Minister and Ruler of Dubai Mohammed bin Rashid Al Maktoum. The issue of ISIS threat is likely to be part of talks between the PM and UAE leadership which considers the terror group as a major threat.
On Sunday, Modi reached out to Indian workers in the UAE and discussed how the Government of India can help them.
Modi, the first Indian Prime Minister to visit the country in 34 years, also met NRI investors and appealed them to renew their efforts to bring in more investments into the country especially in the infrastructure and related fields and highlighted the role of 'Make-in-India' for the future generation of Indians.
Marvelling at the UAE's spectacular achievements, Modi described the Gulf nation as a paradise built up in a desert with unmatched vision and remarkable skill.
"I have always thought, how this paradise could come up in a desert? What vision! What remarkable skill!" Modi said.
About 2.6 million Indians constitute nearly 30 per cent of the population of this country.
Earlier, ahead of Modi's trip, the UAE's Foreign Minister Shaikh Abdullah bin Zayed Al Nahyan said the Prime Minister's maiden visit to the UAE provides a strategic opportunity to draw a new blueprint for taking bilateral ties forward, including in areas of counter-terrorism, defence and economy.