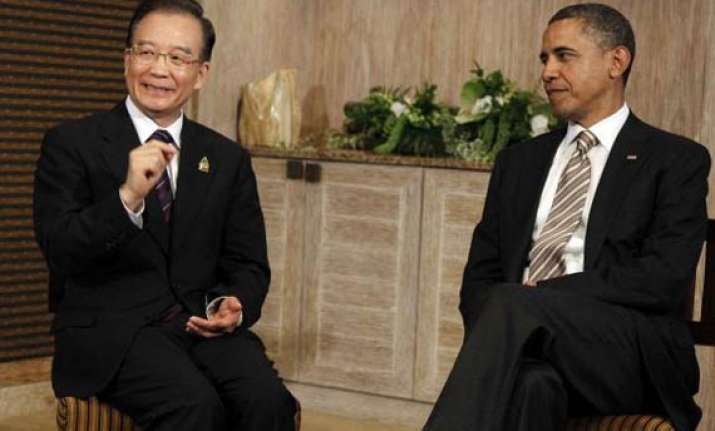 Bali, November 19: President Barack Obama and Chinese Premier Wen Jiabao conferred on Saturday in a surprise meeting on the sidelines of a major Asian summit, likely focussing on the economic matters that have prompted disputes between the two major world powers.

The session was not a formally planned moment of diplomacy but rather a late add-on to let the two men continue their conversation from a group dinner the night before, a senior Obama official said.

Photographers and a videographer were allowed in at the start of the meeting, where the two men exchanged small talk. They were not expected to make formal statements.

The meeting came on the last leg of Mr. Obama's nine-day Asia-Pacific trip, in which he has focussed on bulking up America's presence in the region, including setting up a Marine task force in Australia, in moves largely seen as hedges against China's rise.

China has also been angered by the U.S. stand that it has a stake in security and unhampered international commerce in the disputed territorial waters of the South China Sea.

Mr. Wen had told a meeting of Southeast Asian nations on Friday that "external forces should not use any excuse to interfere" in territorial disputes in the sea.

Mr. Wen's portfolio, though, is chiefly economic, and that is where his conversation with Mr. Obama was expected to focus.

The United States and China have been tussling over China's currency, which the United States contends is deeply undervalued, and over intellectual property.

Mr. Obama has been challenging China to operate with a greater sense of international rules.