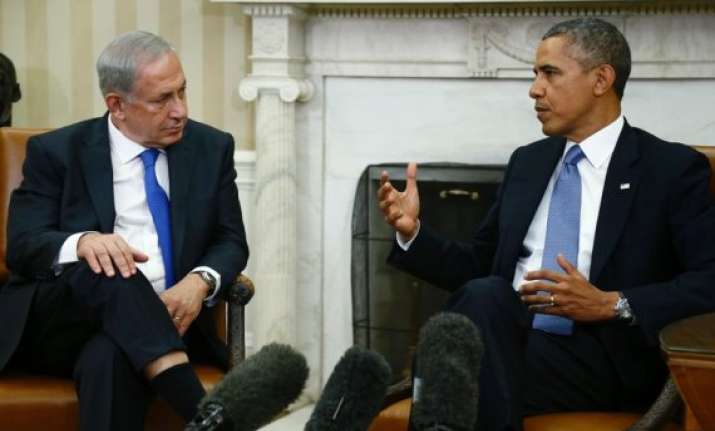 Washington: US President Barack Obama and Israeli Prime Minister Benjamin Netanyahu met at the White House on Wednesday and held discussion over some thorny issues including peace with the Palestinians, Iran's nuclear programme and the battle against the Islamic State Sunni radical group.
"We meet at a challenging time," Obama told his guest ahead of their talks, calling for efforts to "find ways to change the status quo" so as to secure the Israelis in their homes as well as avoid the tragedy of Palestinian children being killed, Xinhua reported.
Bilateral ties were further frayed during Israel's military offensive against the Gaza Strip from July 8-Aug 26, as the US criticised the killings of Palestinian civilians, in particular children seeking shelter at UN compounds, while Israeli officials and media assailed Secretary of State John Kerry over his mediation efforts to broker a ceasefire.
"We'll discuss extensively both the situation of rebuilding Gaza but also how can we find a more sustainable peace between Israelis and Palestinians," Obama said.
Obama and Netanyahu last met in March, when the Israelis and the Palestinians were still involved in the US-brokered peace talks, but the negotiations broke down in April to no avail.
The prime minister told Obama that he "remains committed" to a two-state solution "based on mutual recognition and rock-solid security arrangements on the ground".
He warned Obama, however, against making Iran a "threshold nuclear power" under his presidency.
The US, along with Britain, China, France, Russia and Germany, is trying to ink a comprehensive deal over Iran's controversial nuclear programme through negotiations set to end Nov 24.
"Iran seeks a deal that would lift the tough sanctions that you've worked so hard to put in place, and leave it as a threshold nuclear power," Netanyahu told Obama. "I fervently hope that under your leadership that would not happen."
In remarks delivered at the UN General Assembly Monday, the Israeli leader named Iran the most dangerous country in the world, calling for a "full dismantle" of its nuclear weapons capability.
Netanyahu told Obama that Israel "fully supports" his effort to defeat the Islamic State, an Islamic group that proclaimed a caliphate in late June in vast areas it had seized in both Syria and Iraq.
Washington is leading airstrikes on the group's targets in Iraq and Syria, an offensive the White House said could go well beyond Obama's tenure that ends in January 2017.