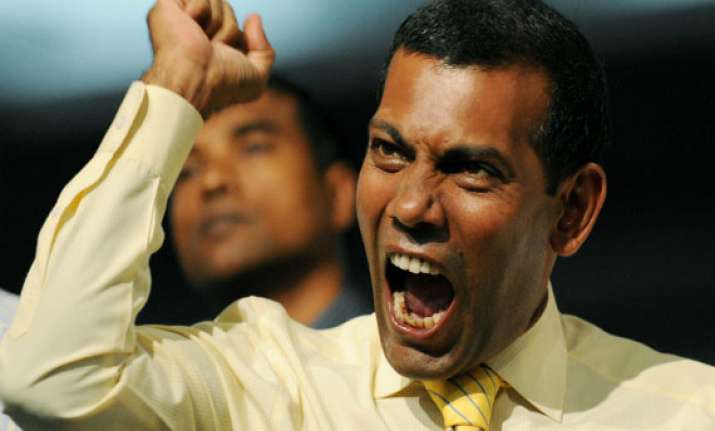 Male/New Delhi, Feb 20: A court in Male Wednesday cancelled the trial hearing of former Maldives president Mohamed Nasheed after police were unable to present him to judicial authorities due to his presence in the Indian High Commission since Feb 13.
A high-level delegation of the Indian ministry of external affairs flew to Male to "engage with all stakeholders" over the growing political crisis.
A Maldivian court earlier this week issued a second arrest warrant against Nasheed, who has been staying in the Indian High Commission.
The four-member Indian delegation, headed by Harsh Vardhan Shringla, joint secretary in-charge of the Maldives, went to Male to "basically engage with all the stakeholders and understand the situation and all the issues involved", a source told IANS.
Nasheed's trial hearing, scheduled for 4 p.m., was cancelled by the Hulhumale' Magistrate Court after police failed to present him.
On Monday, the court issued a second warrant requesting police to present Nasheed on charges of illegally detaining Chief Criminal Court Judge Abdulla Mohamed during his final days in office.
Nasheed's Maldivian Democratic Party (MDP) considers the charges politically motivated and designed to disqualify him from politics.
The former president's court hearing was cancelled after police said he could not be arrested while he was inside the Indian High Commission, Minivan News reported.
"Police have said they won't be able to bring Nasheed to Hulhumale' Magistrate Court and so the hearing has been cancelled. A new hearing is yet to be scheduled by the court," an official said.
MDP has said Nasheed would remain inside the Indian High Commission till an interim government is established ahead of the presidential polls in September.
Police cordoned off the street outside the Indian High Commission in Male.
Nasheed's decision to take refuge in the Indian mission has cast a shadow on relations between India and the Maldives.
A section of the Maldivian leadership has accused India of interfering in Male's internal affairs. New Delhi has denied this.
Earlier, MDP spokesperson Hamid Abdul Ghafoor, an MP, said Maldives foreign ministry was in touch with the Indian High Commission to try get them to hand Nasheed over to police.
However, the Indian mission did not respond to the request.
Prominent Maldives daily Haveeru spoke to India's High Commissioner to Maldives D.M. Mulay regarding the visit of the special envoy.
Mulay said all stakeholders should come forward for dialogue in the spirit of goodwill.
"We need to wait and watch. Meanwhile, develop space for dialogue," Mulay told Haveeru. "We want the deadlock to be over with an amicable solution."
Nasheed took refuge at the Indian mission to avoid being arrested after he failed to appear in court last weekend.