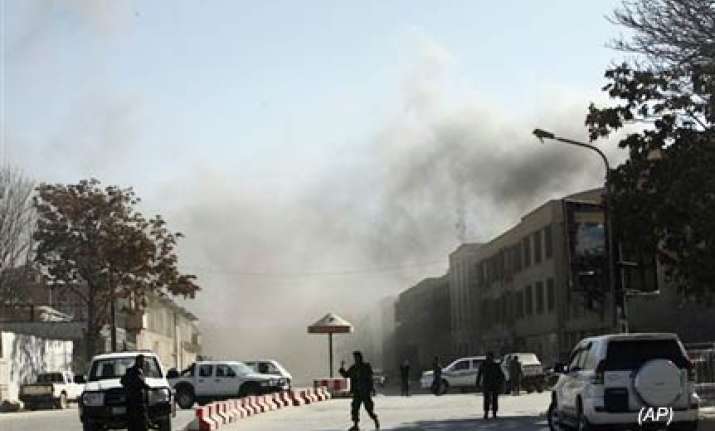 Pakistan-based Lashkar-e-Taiba, responsible for the Mumbai terror attack, was blamed by an Afghan intelligence official for last week's car bomb and suicide attacks that killed 16 people, including six Indians, in the heart of the capital. 
The Afghan Taliban insurgents already claimed responsibility for the attacks after a car bomb exploded and gunmen wearing suicide vests hidden under burqas stormed residential hotels popular with foreigners. At least 56 people were wounded. 
Saeed Ansari, a spokesman for Afghanistan's intelligence service, told The Associated Press today that his agency has evidence that Pakistanis, specifically Lashkar-e-Taiba, were involved in the attacks.  "We are very close to the exact proof and evidence that the attack on the Indian guest house ... is not the work of the Afghan Taliban but this attack was carried out by Lashkar-e-Taiba network, who are dependent on the Pakistan military," Ansari said in an interview aired on Tolo TV, RTA and Shamshad broadcast stations in Kabul.  He also said one of the attackers was heard speaking Urdu.  Ansari said last week's Kabul attacks bore similarities to two suicide bombings at the Indian Embassy in Kabul in 2008 and 2009 and the car bomb attack in January at a residential hotel in one of the safest neighborhoods in the capital.
Police said initially that two suicide attackers were involved in Friday's attack.  Ansari told three private television stations that there were four gunmen with Kalishnokov rifles and suicide vests and that they wore burqas, the all-encompassing veil for women, to hide their gear.  He said one attacker stayed to detonate a van packed with explosives, while the other three spread out and entered two hotels, where they fired on guests and then set off their explosives.
On Friday, about 2 1/2 hours after the attacks began, an Afghan Taliban spokesman telephoned a reporter with The Associated Press to claim responsibility. He said foreigners were the target, but did not specifically mention Indians.  Ansari, however, said the Taliban did not have the logistical capability for the assault, saying the gunmen appeared to have detailed knowledge, including names, of Indian guests at the hotels.  He also claimed the Taliban "had no knowledge" of the Kabul attacks up to five hours after they began.  Friday's assault was the deadliest in Afghanistan's capital since October 8, when a suicide car bomber killed 17 people outside the Indian Embassy.  A suicide car bomber killed more than 60 people in an attack at the gates of the Indian Embassy in July 2008, an attack that India alleges Pakistan's main spy agency was involved in.
But New Delhi did not immediately blame Pakistan after Friday's assault. (AP)