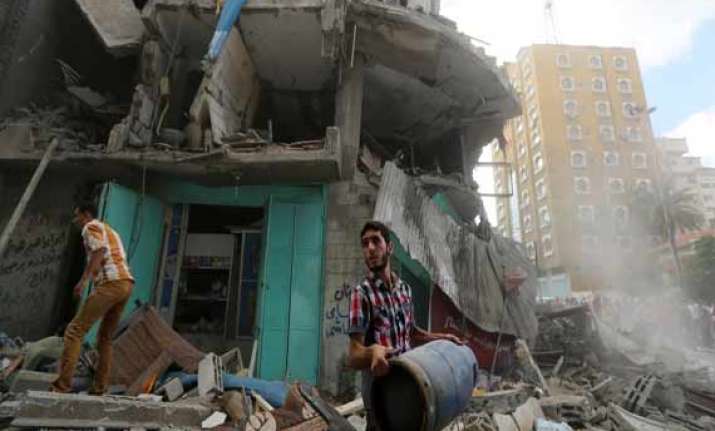 Gaza/Jerusalem: Nearly 90 Palestinians were killed today in Israel's fiercest attack on Gaza in recent years, as the death toll in the conflict spiralled to 425 after the Israeli air and ground assault was expanded to pound Hamas targets.
The bloodiest day in 13 days of conflict prompted urgent efforts by the International Committee of the Red Cross to broker a temporary ceasefire to allow evacuation of the dead and wounded in a deal accepted by both Israel and Hamas.  However, the humanitarian ceasefire was short-lived as the Israeli army accused Hamas militants of violating it and said it had "responded accordingly".
"Once more, Hamas breaches ceasefire, this time brokered by the ICRC for a humanitarian hiatus. IDF responding accordingly," army spokesman Peter Lerner said on his official Twitter account, 40 minutes into the truce.  Hundreds of Palestinians fled in panic into Gaza City today as Israeli troops focused their firepower on the nearby town of Shaja'ia.
Of the 425 Palestinians killed since the start of Israel's Operation Protective Edge, 112 were minors, 41 women and 25 elderly people, emergency services spokesman Ashraf al-Qudra said.
Over 2,500 people have been injured and almost 61,000 displaced seeking refuge in 49 UN Relief and Works Agency run centres, sources in the Gaza Strip said.  Israel stepped up its air and ground assualt, killing 87 Palestinians in a day alone as bodies lay in the streets under gashes blasted into apartment buildings.  
There were reports of multiple deaths in Israeli attacks on Shejaiya and the neighbouring Zeitun district, as well as in Jabaliya to the north. The streets of Shejaiya were filled with thousands of people fleeing for their lives.  Seven Israelis, including five soldiers, have been killed in the fighting and dozens others injured while a large section of the Israeli population struggles to carry out normal life under attack, trying to stay put close to safe shelters under instructions from the Home Front.  
Four soldiers were killed yesterday, including two who died when militants disguised in military uniforms emerged from a tunnel shaft and opened fire at them inside Israel.  One of the militants was also killed on Israeli soil while the rest fled back to Gaza and were killed by a helicopter gunship.
Palestinians have released gruesome images of the dead and wounded, including children, who were killed overnight in the massive IDF attack in the area.
"The massacre of civilians in Saja'iyya is a war crime that will not break the will of our people. The resistance will not allow the enemy to trample over the soil of Gaza," Hamas' armed wing said in a statement.  Hamas spokesman Sami Abu Zuhri accused Israel of trying to compensate for its failure in the campaign against the group's military wing by taking its revenge out on the civilian population.
Amid raging violence, Qatar was to host a meeting between Palestinian Authority President Mahmoud Abbas and UN chief Ban Ki-moon in attempts to reach a ceasefire agreement.  Abbas will also meet exiled Hamas leader Khaled Meshaal following his meeting with the UN chief, reports said.  The meetings come after French-led efforts to reach a ceasefire failed and Hamas rejected an Egyptian proposal.
Islamist Hamas' fighters infiltrated nearby parts of Israel via underground tunnels and clashed with Israeli troops yesterday. The clashes demonstrated how Israel's conflict with Hamas has now spilled outside, and even underneath.  
"Controlling tunnel shafts doesn't give us full control of the entire tunnel," security sources said, adding troops have been focussing on destroying the tunnel network which have emerged as a major threat with some finding their way inside Israeli territory.
"The increased presence in Gaza is aimed at destroying Hamas infrastructure", the Israel Defence Forces (IDF) said.  "In preparation for the mission, the forces have undergone an intensified training and thorough planning period and are prepared and stand ready for the task at hand," IDF spokesman Lt Colonel Peter Lerner said in a statement.  Sixty-two people in Gaza had been killed yesterday, the highest daily death toll so far, according to the Gaza Health Ministry.
"We know that Hamas terrorists are operating underground, and that's where we will meet them," the IDF said, adding that it found 13 tunnels across Gaza, with 34 access points.  In one of the foiled infiltrations, a killed Hamas fighter was found with tranquilizers and cuffs, "carried with intention to abduct Israelis," the Israeli military said.  The Israeli military also encountered a suicide donkey, one loaded with explosives, approaching soldiers near Rafah.  The troops fired on the animal, detonating the bombs and killing the donkey on Friday night.
Warnings of rockets sounded yesterday over the Israeli cities of Ashkelon, Rishon Letzion, Rehovot and Beer Sheva.  Militants in Gaza have launched 1,770 rockets on Israel since the start of Operation Protective Edge on July 8, the IDF said. The Israeli anti-missile defence system, Iron Dome, is said to have intercepted 360 of them. The IDF has struck "2,300 terror targets" in Gaza.