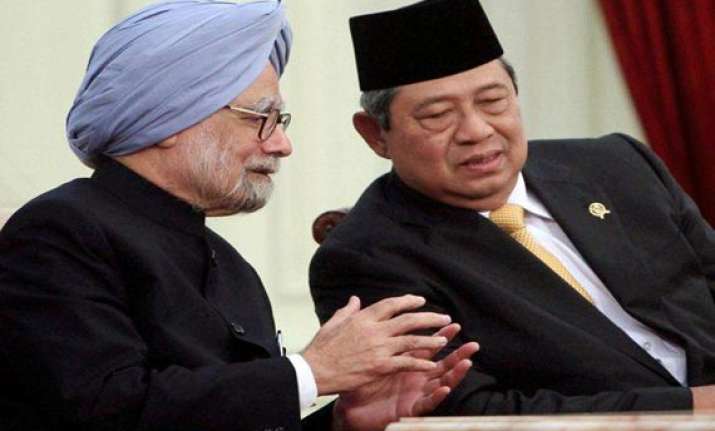 Jakarta : Prime Minister Dr Manmohan Singh on his visit to Indonesia agreed to cooperate on counter-terrorism, security, anti-corruption and disaster management with the southeast Asian country and signed six pacts to take forward the strategic partnership between the two countries.
This is Manmohan Singh's first bilateral visit to Indonesia. He arrived in Jakarta  after attending the ASEAN summit in Brunei. Singh described Indonesia as "one of India's most valued partners in our Look East Policy".
According to officials, six pacts in areas like health, anti-corruption, narcotics, disaster management and academics were signed by the two sides.
Referring to the four-fold growth in trade in the past seven years, Singh said early conclusion of a bilateral comprehensive economic cooperation agreement would greatly expand and diversify economic relations.
India has offered to assist the Indonesian government in setting up a vocational training centre in Papua, after the successful experience of those established in Jakarta and Banda Aceh.
The two countries decided to establish chairs of Indian and Indonesian studies in each other's universities and further expand scholarships programme and encourage training and research partnerships.
Singh stated that "As maritime neighbours along one of the most critical sea links in the world, we also have shared interests in maritime security".