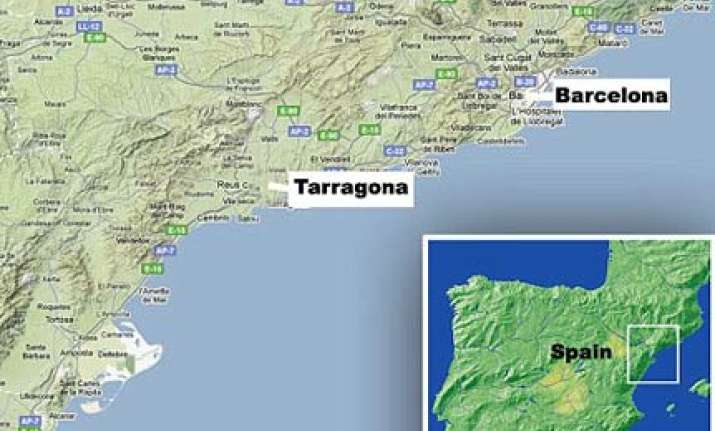 Three people have been arrested in Spain over the kidnap of five-year-old British boy Sahil Saeed in Pakistan. Two Pakistani men and a Romanian woman were held by police at an address in Mediterranean city of Tarragona, 60 miles from Barcelona., reports The Mail.
Spanish police are said to have discovered a large part of the money at a flat they shared. The international hunt for the kidnappers had turned to Spain after it was claimed that part of the ransom was paid there.
Pakistan officials said his father Raja handed over the £100,000 ransom in a European country to end his son's 13-day ordeal at the hands of the armed gang.
Saeed was due to return to Pakistan today to bring his son back to Oldham, although his current whereabouts is unknown. It is understood he had already been contacted by the kidnappers, who made phone calls from Spain.
Sahil Saeed, from Oldham, was found on Tuesday wandering shoeless and with his head shaved after being released by his captors almost two weeks after he vanished.
Punjab law minister Rana Sanaullah  confirmed an international gang had demanded that the money was paid outside Pakistan. It is Foreign Office policy never to pay ransoms to kidnappers and it advises relatives against doing so.
But Rana Sanaullah, Punjab law minister, confirmed in an interview with AP Television News: 'An international gang was involved in it and it was demanding the ransom outside Pakistan in a European country. 'A ransom has been paid. We are trying to bust this gang with the help of other countries.'
And when Greater Manchester Police assistant chief constable Dave Thompson was asked why Sahil's father came back to Britain he said: 'The reason was very much about the release of his child.'
News of the first arrests comes as friends of the family said a substantial sum was raised by Sahil's family who had to sell prized possessions to gather the cash for the ransom.
Mrs Naqqash, a supermarket worker, said her sister-in-law burst into her bedroom at 4.20am to break the news.  'I thought it was a dream. I am over the moon. I couldn't believe it. We are overjoyed. The past few weeks have been really hard.  I couldn't see his face, I just had to turn the TV off because of all the false information. He was going on and on and on about his toys and his sisters and everything  -  a normal little boy. It was amazing.'
Of the ransom, she said: 'We don't have that kind of money lying around.' Sister-in-law Amrana Istikhar, 33, said: 'All we have been doing is praying until he gets here, we will carry on praying.'
Adam Thompson, the British High Commissioner in Islamabad, said: 'It brings to an end the traumatic ordeal faced by Sahil Saeed's family.'
Sahil had travelled to Pakistan with his father Raja, 28, to visit family in the town of Jhelum in Punjab. They were preparing to fly back to Britain on March 3 when gunmen struck at his grandmother's house.
 Saeed said he and other family members were beaten and tortured for six hours by a gang armed with guns and grenades. The raiders took jewellery and money and fled with the boy before demanding £100,000 in a telephone call.
Reports immediately after the kidnapping suggested Sahil may have been abducted by a family member.
There were also reports that Mr Saeed and Mrs Naqqash, who are married with two other children, Anisha, four, and Hafsah, 21 months, split up last year.
It was claimed that Mr Saeed had taken Sahil out of school to travel to Punjab after a domestic row. The boy had an emotional phone call with his mother, Akila Naqqash, shortly after he was released.
Speaking from her home in Oldham, Naqqash, 31, said: 'I am really happy and lost for words. The first thing he said was "Mummy, Mummy I've bought some new toys".