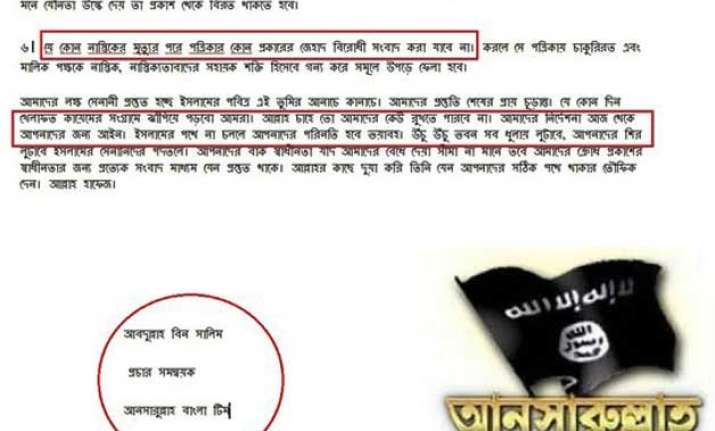 Dhaka: In a chilling threat given to all media houses in Bangladesh, the fundamentalist jihadi outfit Ansarullah Bangla, claiming to be an affiliate of Al Qaeda in South Asia, today directed media houses to sack all female staff, stop publishing pictures of models, and publish pictures of women only wearing burqas.
"Our directives will be the law for you from today. The consequences will be severe if you do not walk the path of Islam. Towering buildings will crumble to the ground, your heads will roll at the feet of the soldiers of Islam", the e-mail send by one Abdullah bin Salim, publicity coordinator, Ansuralluah Bangla Team, said.
The address at the top of the letter says it is from Ansarullah Bangla team, main office, Chittagong, Bangladesh. The mail has been sent from ansarullahbanglabd@gmail.com
The directives given in the jihadi outfit's e-mail are as follows:
--"Since the Islamic Sharia holds the working of women outside home and their movements without the purdah as punishable offence, those employing them are equally guilty. We are appealing to the entire media to release women from their jobs"
--"Pictures of female models cannot be used in advertisements published in papers. No picture of a woman without a burqa can be published either."
--"The publication of entertainment pages, dance, drama, cinema or anything that goes against the Sharia and gives rise to temptations and titillates the libido of young men and woman must stop".
--"No report condemning jihadis after the death of an atheist can be published. If that is done, the employees and the owners of such papers will be considered to be abetters of atheists and atheism, and would be fully uprooted."
--"There should be no propaganda campaign against the soldiers of Islam. Any criticism of their jihadi activities is unacceptable and is being banned."
The letter concludes by saying: "Tens of thousands of our fighters are preparing themselves in every corner of this holy land of Islam. Our preparations are in their final stages. We will jump into the fray any day to establish the Caliphate."
The mail has been sent to bdnews24.com, a news website of Bangladesh, Dhaka Tribune daily newspaper and other leading media offices.
The e-mail names nine bloggers living abroad and six in Bangladesh and says: "Those living in foreign countries will be killed once they return and those hiding inside will be hacked, the moment the opportunity arises".
The e-mail warns: "Anyone who raises questions about or says derogatory things about Allah, Nabi, Rasul, Sahabi, Olamaye keram and Momins on Facebook, blogs or any other medium will be executed by us, sent as Azrael by Rabbul Alamin. The brave fighters of Islam will kill them at the first opportunity."
"Everyone is being warned against succumbing to provocations by atheists in the country and those hiding abroad. Otherwise, their fate will be like that of Niloy Neel, Oyasiqur Babu, Avijit Roy, etc. (bloggers hacked to death by Ansarullah). Not a single atheist will be spared. Killing them is wajib as ordained by Allah Rasul", says the mail.
Dhaka Metropolitan Police deputy commissioner (media) Muntasirul Islam said, police is trying to ascertain the source of the e-mail. He added, higher authorities have been informed.
Ansarullah Bangla has hacked to death four atheist bloggers in less than a year in Bangladesh.