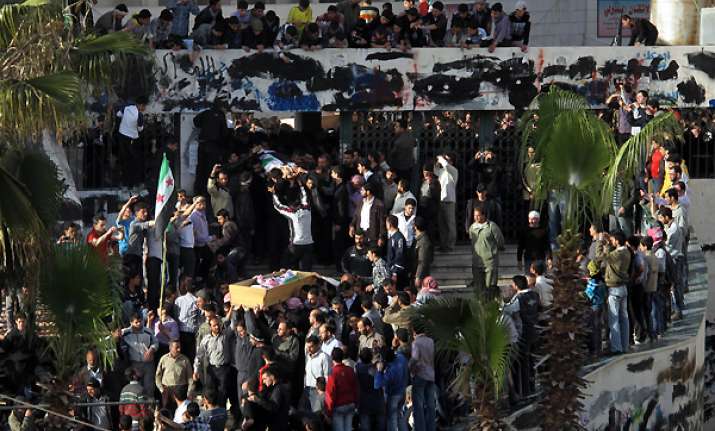 Beirut, Apr 6: At least 38 people, half of them civilians, were killed in violence across Syria yesterday, monitors said, with fierce fighting between regime troops and insurgents in the rebel provinces of Idlib and Homs.
The violence came despite the arrival in Damascus of a UN team dispatched by international peace envoy Kofi Annan to pave the way for a possible observer mission in Syria.
In central Homs province, army shelling of the town of Rastan killed four civilians, including two children, the Syrian Observatory for Human Rights said.
In Homs city itself, eight regime forces were killed and dozens wounded in fighting with rebel forces on the outskirts of the Deir Baalaba neighbourhood, the Britain-based monitoring group said.
Four civilians were also killed in Homs city, including three stabbed by Shabiha pro-regime militia, the Observatory added.
Separately, regime troops backed by tanks stormed Douma, near Damascus, at dawn amid heavy gunfire and shelling.
Clashes between soldiers and rebel forces were reported in various parts of Douma, some 13 kilometres northeast of the capital, with a civilian killed by sniper fire, the Observatory said.
Plumes of smoke could be seen near the city's main mosque as troop reinforcements were sent in.
Two young men were killed in Kfar Sousa, a neighbourhood of Damascus early today when security forces opened fire on their car.
In the embattled northwestern province of Idlib, meanwhile, at least eight civilians were killed, along with six regime forces, the Observatory said.