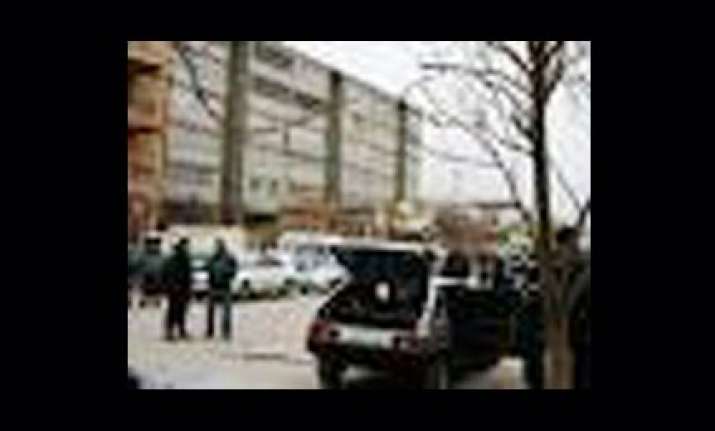 Two suicide bombers, including one in police uniform, set off powerful blasts today in Russia's volatile North Caucasus region of Dagestan, killing at least 12 people and injuring 27, just a couple of days after the terror attacks on Moscow metro claimed 39 lives.
Among the dead in today's attacks in the town of Kizlyar in Dagestan bordering the restive Chechnya was the local police chief Vitaly Vedernikov, Investigation Committee said in a statement.
According to the Interior Ministry, the first blast took place at 8.45 am (10:15 IST), when traffic policemen stopped a Niva jeep for document check near a police station and FSB security agency's office.
The driver of the jeep blew himself up, killing two policemen.
Another blast took place 20 minutes later when the local police chief along with investigators was probing the first explosion.
The second suicide bomber wearing uniform of a police lieutenant blew himself in the crowd of onlookers, killing 10 people, including police chief Vedernikov.
 A total of nine policemen were among 12 people killed in the two blasts, which came a day after Prime Minister Vladimir Putin vowed to 'drag the terrorists out of sewers'.
 Authorities have launched investigations into the latest attacks.
Muslim-dominated Dagestan and other Caucasian regions neighbouring Chechnya have become frequent targets of militant violence directed against the law enforcement agencies.
Interior Minister Rashid Nurgaliyev has ordered stepped up security at public places in Dagestan.
On learning the news of fresh terror attacks, President Dmitry Medvedev called up the leader of Dagestan and assured his full support in restoring security in the volatile region.
 Medvedev spoke to Dagestani President Magomedsalam Mogomedov and instructed him to give full help to the families of the victims and provide medical and material aid to the injured, Kremlin Press Service said.
The chiefs of the law enforcement agencies and security services briefed Medvedev about measures taken to investigate the Kizlyar blasts.
On Monday, two woman suicide bombers attacked Moscow metro killing 39 people, the worst terror strike in the city in six years which the authorities have linked to militants from the North Caucasus. PTI