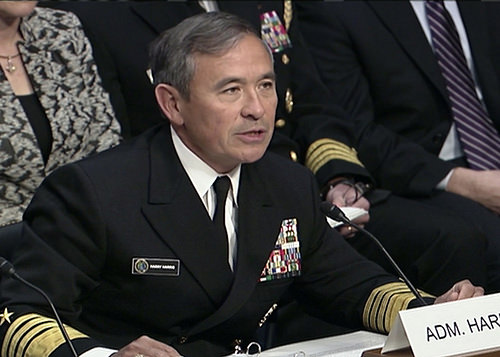 Admiral Harry Harris, the head of US Pacific fleet, has said that the United States is ready to confront China should it continue its overreaching maritime claims in the South China Sea.
According to a report in 'The Nation', Admiral Harry said that Beijing continues to act in an "aggressive" manner, to which the United States stands ready to respond.
"We will not allow a shared domain to be closed down unilaterally no matter how many bases are built on artificial features in the South China Sea. We will cooperate when we can but we will be ready to confront when we must," he said in Sydney.
China claims most of the resource-rich South China Sea through which about $5 trillion in ship-borne trade passes every year. Neighbors Brunei, Malaysia, the Philippines, Taiwan and Vietnam also have claims.
The United States has called on China to respect the findings of the arbitration court in The Hague earlier this year which invalidated its vast territorial claims in the strategic waterway. However, China has questioned the authority to the arbitration court.
Recting to the remarks of Admiral Harris,  Chinese Foreign Ministry spokesman Geng Shuang said the situation in the South China Sea was currently stable, thanks to the hard work of China and others in the region.