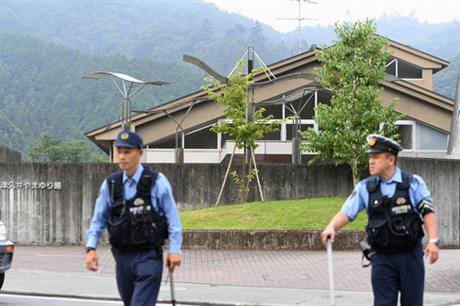 Sagamihara: The young Japanese man, who went on a stabbing rampage at a facility for the mentally disabled killing 19 people and injuring dozens on Tuesday, had written a letter to Parliament outlining his bloody plan and demanding all disabled people should be put to death.
Satoshi Uematsu, who had left dead or injured nearly a third of the almost 150 patients at the facility in a matter of 40 minutes, had written to Parliament's lower house speaker demanding all disabled people be put to death through "a world that allows for mercy killing,"
Uematsu boasted in the letter that he had the ability to kill 470 disabled people in what he called was "a revolution," and outlined an attack on two facilities, after which he said he will turn himself in. He also asked he be judged innocent on grounds of insanity, be given 500 million yen (Rs 33 crore) in aid and plastic surgery so he could lead a normal life afterward.
The letter was reprinted by Kyodo after the attack.
"My reasoning is that I may be able to revitalize the world economy and I thought it may be possible to prevent World War III," the rambling letter says.
The letter, which the Tokyo police got, included Uematsu's name, address and telephone number, and reports of his threats were relayed to local police where Uematsu lived, Kyodo said.
Kanagawa Gov. Yuji Kuroiwa apologized for having failed to act on the warning signs.
Security camera footage played on TV news programmes showed a man driving up in a black car and carrying several  knives to the Tsukui Yamayuri-en facility in Sagamihara, 50  kilometers (30 miles) west of Tokyo.
The man broke in by shattering a window at 2:10 a.m., according to a prefectural health official, and then set about slashing the patients' throats. Notably, Uematsu was fired from the facility in February this year.
Details of how he did that, and if the victims were asleep or otherwise helpless, were not immediately known, although a letter he sent to Japan's Parliament in February gave a peek into Uematsu's dark turmoil.
He calmly turned himself in about two hours after the attack, police said.
(AP inputs)