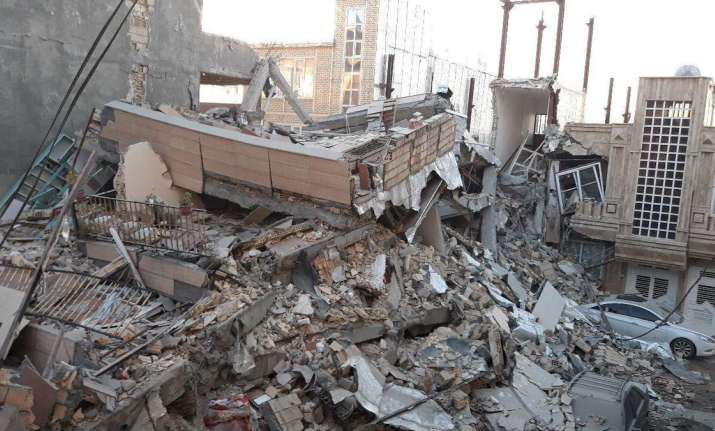 A powerful magnitude 7.3 earthquake hit the mountainous region along the border between Iran and Iraq on Sunday, killing at least 407 people and injuring over 6,500.
The powerful earthquake sent residents fleeing their homes into the night and was felt as far away as the Mediterranean coast.
The highest casualties occurred in the town of Sarpol-e Zahab, in Iran's Kermanshah Province. The National Disaster Management Organization of Iran said 328 people were confirmed dead as of Monday noon, Press TV reported. Some 2530 others were injured.
Power cuts had been reported in Kermanshah and houses in some western Iranian villages have been damaged to various degrees. 
A few others were  The most extensive damage was in the town of Darbandikhan, 75 kilometers east of the city of Sulaimaniyah in the semi-autonomous Kurdistan Region.
Iraq: Moment massive #earthquake struck pic.twitter.com/jAvRdBq01S

— Press TV (@PressTV) November 13, 2017
The US Geological Survey said the epicentre of the quake was 32 kilometers outside the eastern Iraqi city of Halabja at the depth of 23.2 km. It reported the time of the quake as 9:18 pm local time, November 12. The USGS had earlier reported the magnitude as 7.2 which it later revised to 7.3. 
According to reports, the quake and its aftershocks have been felt in many Iranian provinces, including Kordestan, Kermanshah, Ilam, Khuzestan, Hamedan, West Azarbaijan, East Azarbaijan, Lorestan, Tehran, Qazvin, Zanjan and Qom.
The tremor triggered landslides in the mountainous region that were hindering the rescue effort, officials said. 
Scores of people were seen running for their lives in Erbil's Tablo Mall as a 7.3-magnitude #earthquake rocked the region pic.twitter.com/hv4if3Z4Hy

— Press TV (@PressTV) November 13, 2017
Head of Iran's emergency medical services, Pirhossein Koulivand, said it was "difficult to send rescue teams to the villages because the roads have been cut off... there have been landslides." 
The worst-hit towns in Iran were Qasr-e Shirin in Kermanshah and Azgaleh, about 40 kilometres northwest, IRNA said. 
Koulivand earlier told a local television station that the earthquake knocked out electricity in Iran's western cities of Mehran and Ilam. He also said 35 rescue teams were providing assistance. 
Iranian President Hassan Rouhani in a phone call with the Interior Ministry emphasized the need for maximum effort from officials.
Officials announced that schools in Kermanshah and Ilam provinces would be closed Monday because of the tremor. 
Iran sits on many major fault lines and is prone to near-daily quakes. Iran was hit by a major earthquake in 2003 when a tremor struck its Bam city in the southeastern province of Kerman, killing over 26,000 people and injuring even more. The magnitude 6.6 earthquake flattened the historic city.
Since then, Iran has experienced two major quake disasters, one in 2005 that killed more than 600 and another in 2012 that left around 300 dead.