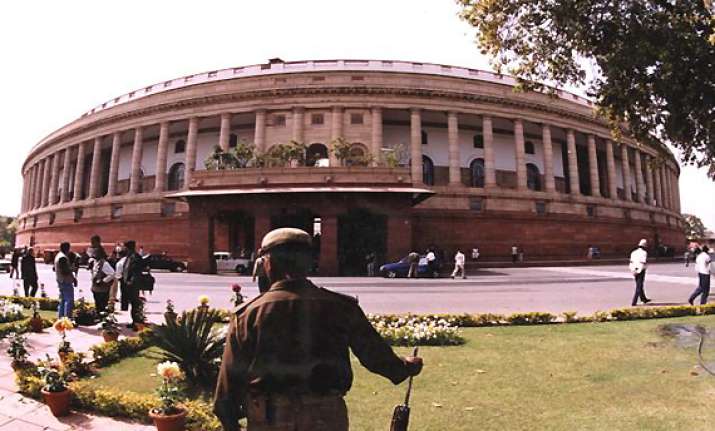 New Delhi, Dec 27: A Bill which seeks to provide for setting up a regular mechanism to encourage persons to disclose information on corruption or wilful misuse of power by public servants, including ministers was passed by the Lok Sabha tonight.

The Whistle-blowers' Protection Bill, 2011 also seeks to provide "adequate protection to persons reporting corruption or wilful misuse of discretion which causes demonstrable loss to the government or commission of a criminal offence by a public servant."

While the measure sets out the procedure to inquire into the disclosures and provides adequate safeguards against victimisation of the whistle-blower, it also seeks to provide punishment for false or frivolous complaints. 

Accepting some key recommendations of a Parliamentary Committee which scrutinised the Public Interest Disclosure and Protection to Persons Making the Disclosures Bill, 2010, the government had moved amendments, cleared by the Union Cabinet recently. One of them was renaming the Bill. 

A major amendment cleared by the Cabinet is the inclusion of ministers, MPs, defence services, intelligence agencies, bank officials and PSUs under the ambit of the bill. The Special Protection Group (SPG) has been kept out of the ambit of the Bill.

One of the recommendations of the Committee to include higher judiciary (Judges of Supreme Court and High Courts) has been rejected.

The definition of "disclosure" has also been amended to include wilful misuse of power or wilful misuse of discretion which leads to demonstrable loss to the government or demonstrable gain to the public servant or any third party. 

The definition of competent authority to which a complaint can be made, has also been expanded.

For complaint against a Union Minister, the competent authority is the Prime Minister; for MPs, Lok Sabha Speaker or Chairman of Rajya Sabha; for lower court judges, the High Court of the state; for central or state government employees, CVC or state vigilance commissions.

It provides for punishment for revealing the identity, either negligently or with malafide intention, of the person who reports matters regarding corruption by a public servant. 

The legislation was necessitated as it was felt that there were impediments in eliminating corruption in government due to lack of adequate protection to complainants. 

Government had earlier empowered the Central Vigilance Commission, through a resolution, to hand down stringent penalty to people revealing the identity of whistle-blowers.  But it was felt that a standalone legislation was needed to protect the whistle-blowers as the resolution empowering the CVC was not sufficient.